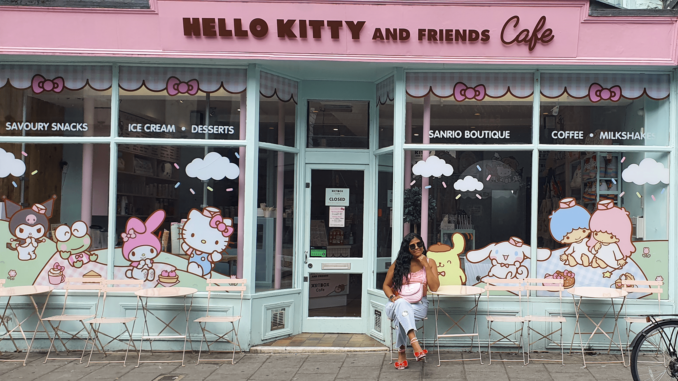 Since the beginning of May, ARTBOX Cafe theme in Brighton is Hello Kitty & friends! Finally! Since then, the time I've been waiting for! As I had my Hello Kitty trip to Mexico, I could not come as soon as the opening. But I was able to go yesterday and it was super adorable!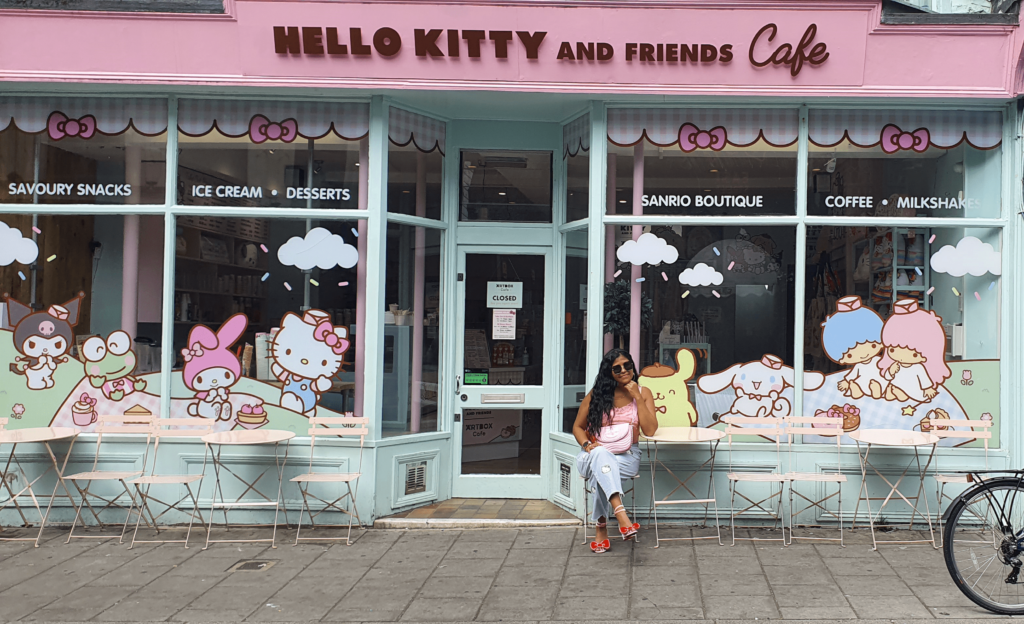 The facade is too cute with vibrant pastel tones! You can see Hello Kitty and her most popular friends, from left to right Kuromi, Keroppi, My Melody, Hello Kitty, Pompurin, Cinnamoroll and Kiki & Lala aka Little twins star.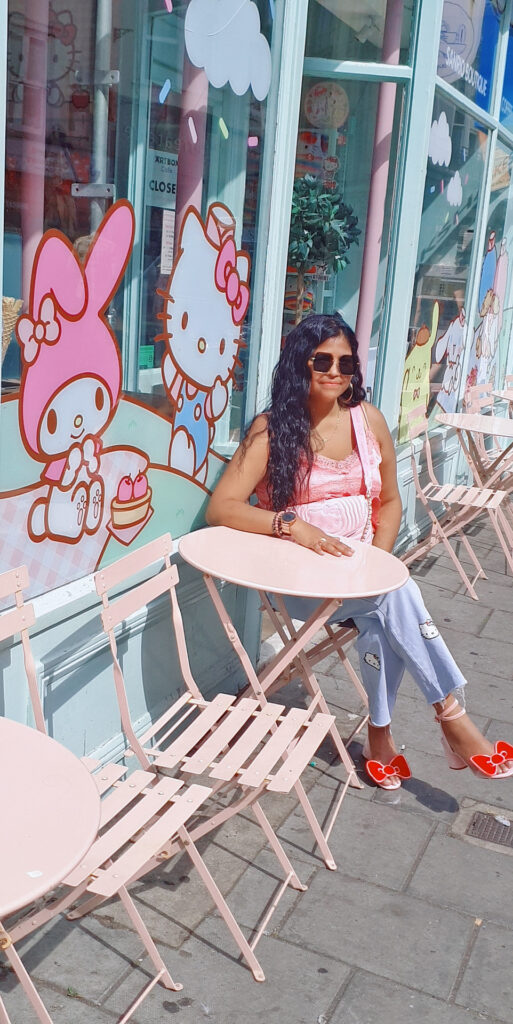 the Hello Kitty Artbox cafe is set on a ground floor where there is a small shop and take away, and the first floor to order and eat on site.
The ground floor
When you walk into the Hello Kitty Artbox cafe, There is on the left, the cashier for the takeout. There are also Sanrio products coming from their site artbox.co.uk on which I have already ordered several times including bags.
I was lucky, there wasn't much people when I came, but it must be less pleasant when it's crowded given the limited space.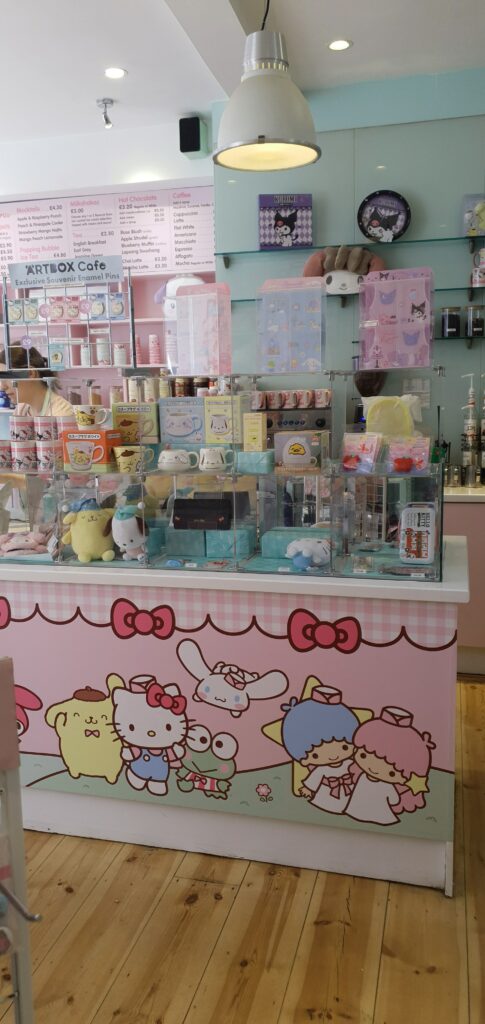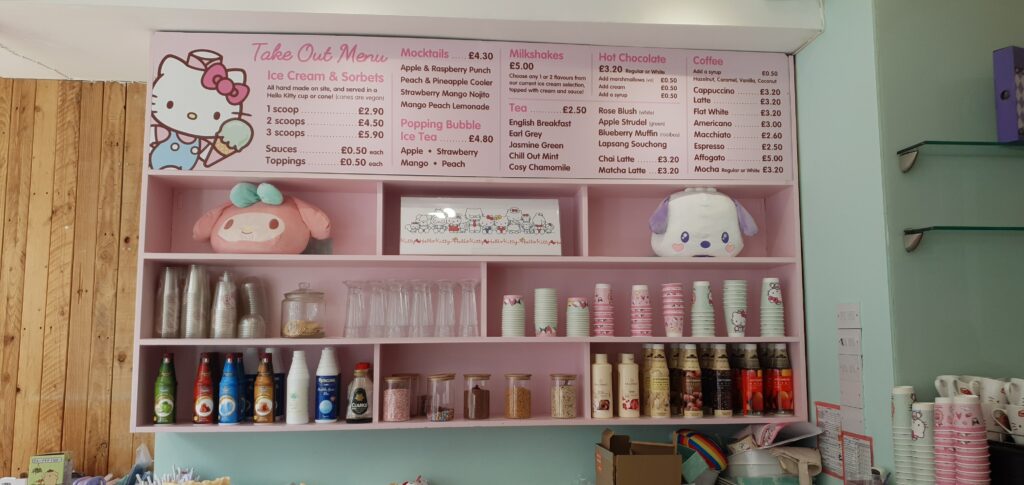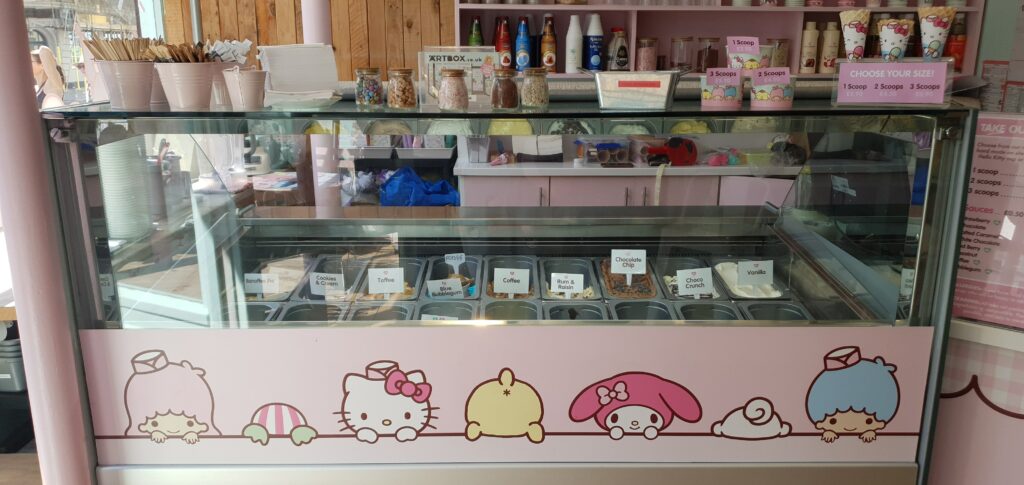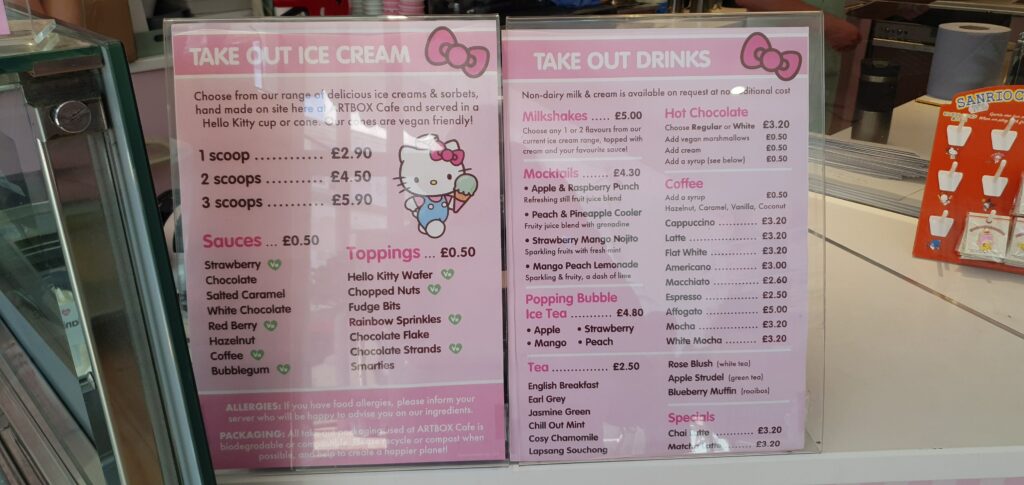 You can mainly order drinks and ice cream they serve you in Hello Kitty small jars or Hello Kitty glass boxes. As I had a booking for a table upstairs, I did not order, but they were very cute!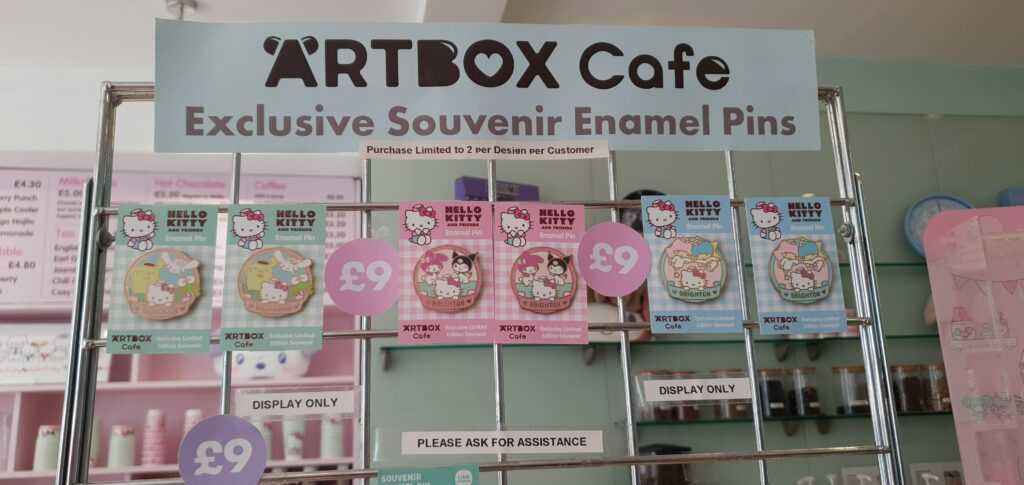 These are the famous Hello Kitty enamel pins that many girls want because they are Hello Kitty Artbox cafe exclusives that can not be ordered on their site and that will probably resell for the price of a kidney on ebay!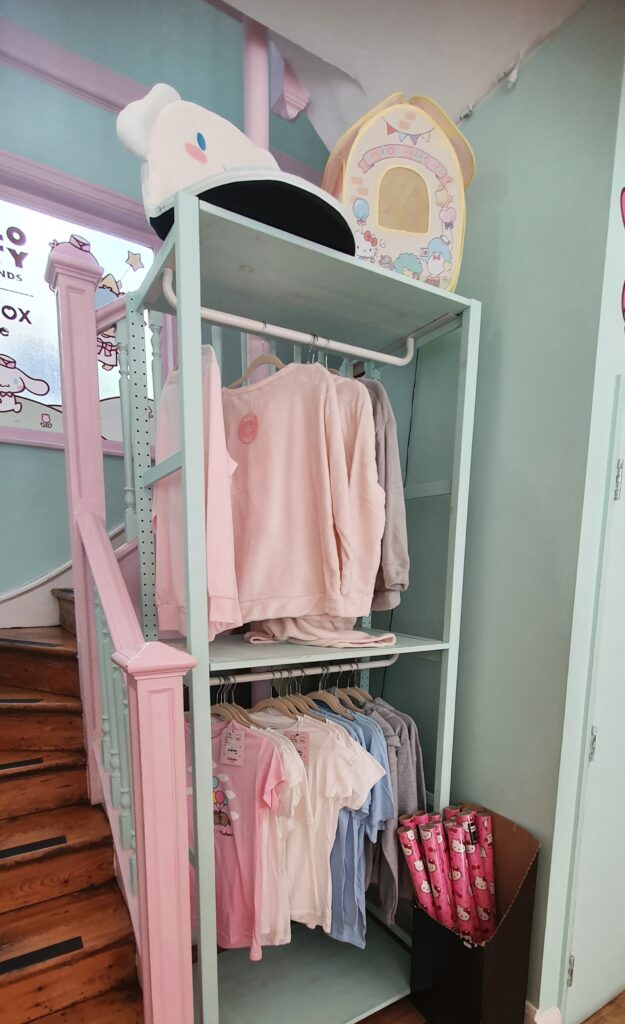 Most of their stuff can be purchased on their website artbox.co.uk, the one exclusive stuff are the Hello Kitty and friends tote bags and the cup.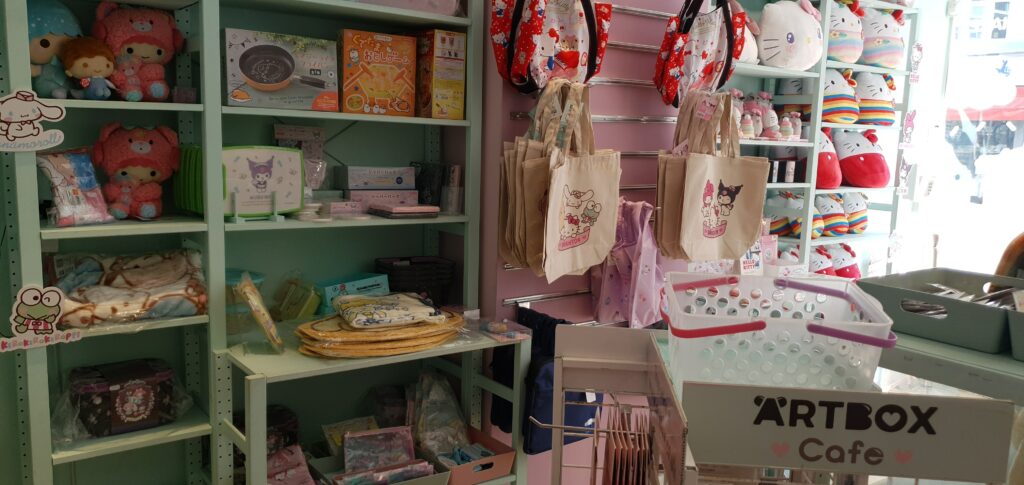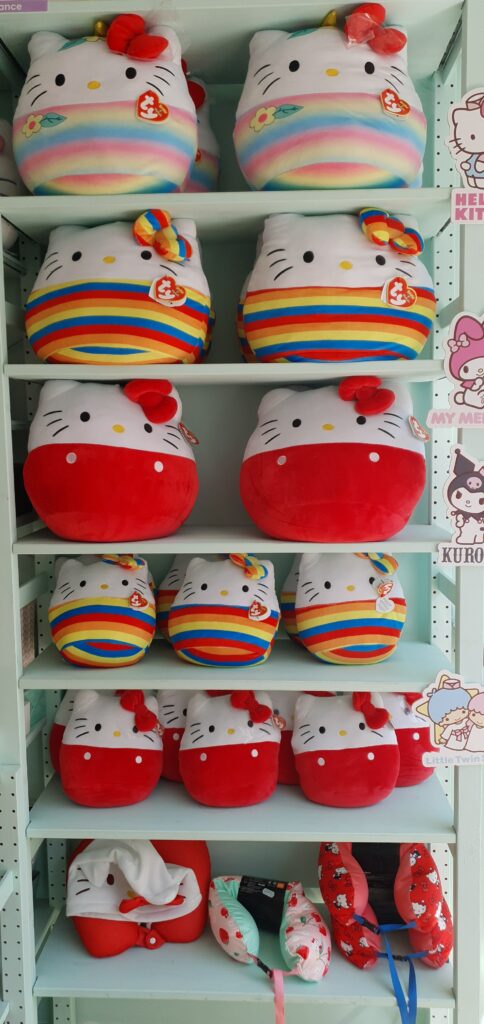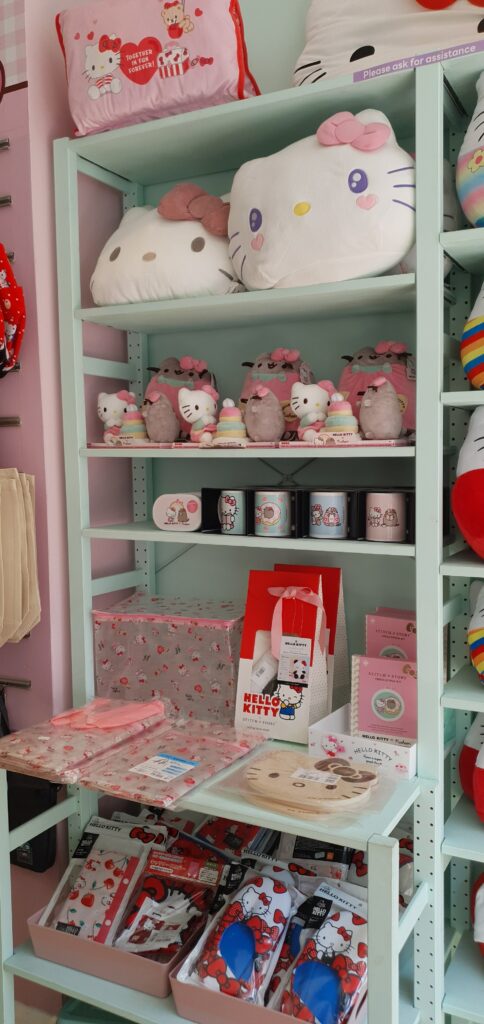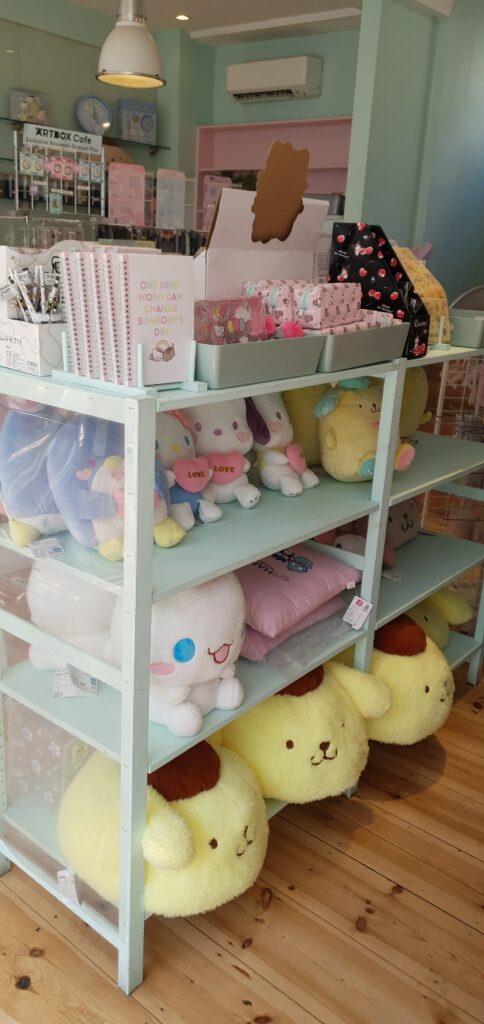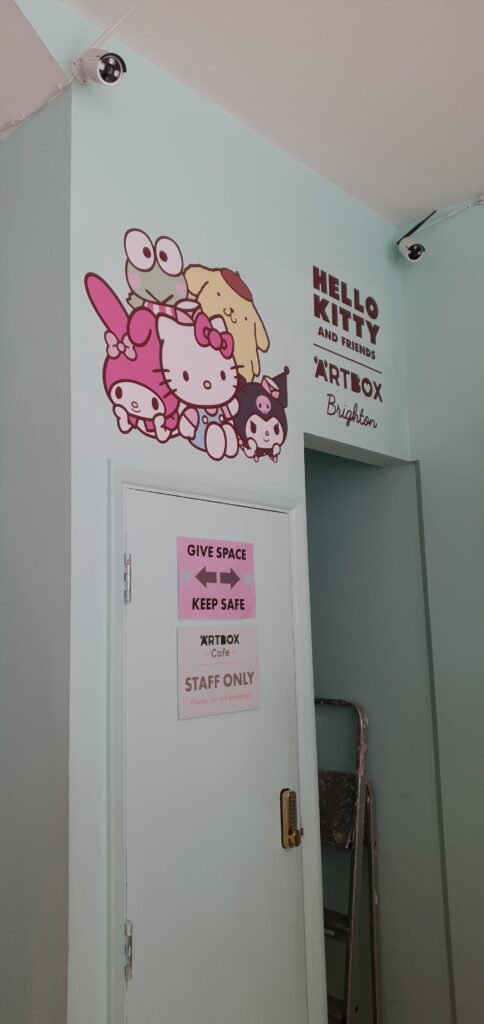 1st floor
If you want to eat quietly and order à la carte, you should preferably book a table in advance on their website artbox cafe. On the site, it is mentioned that we book a table for an hour, but in truth, half an hour was enough for me to eat because they serve quite quickly and the dishes are not so big. The staff is very friendly and smiling.

There are tables for 2, 4 and 6 people.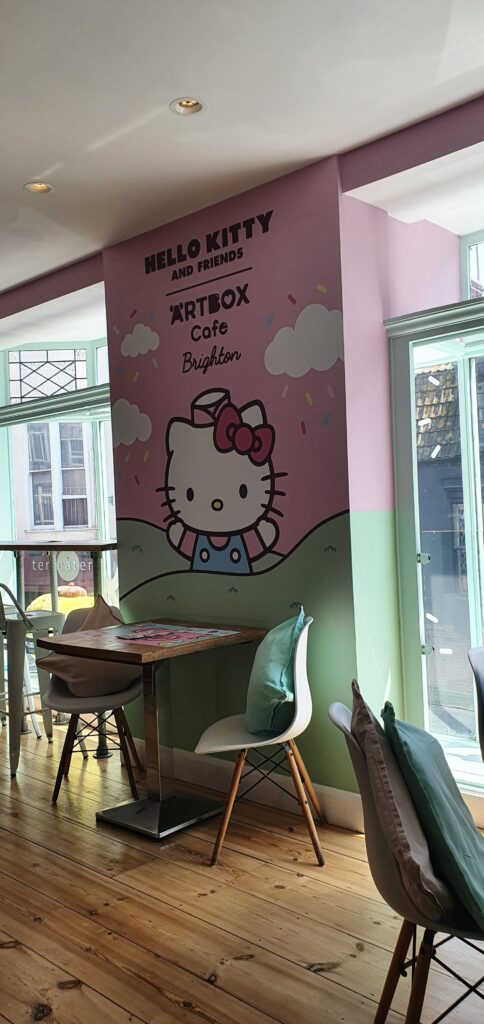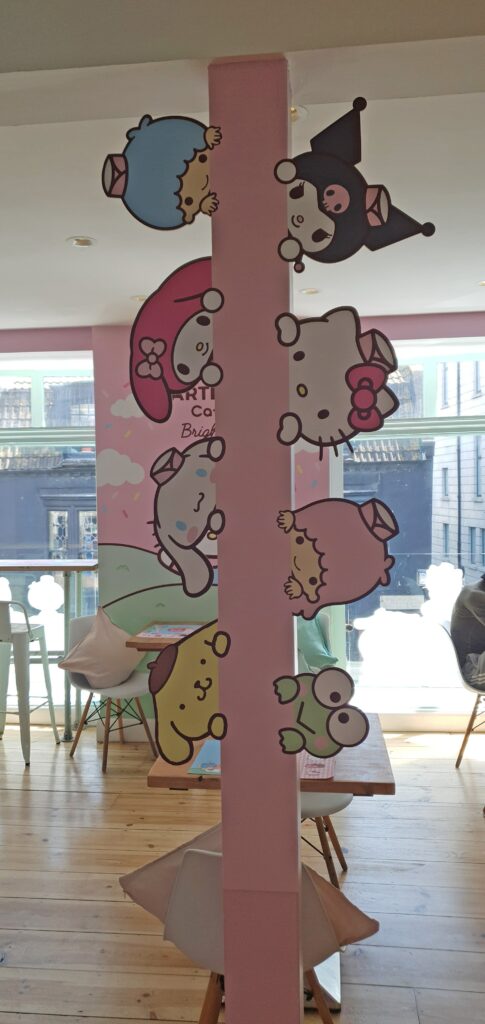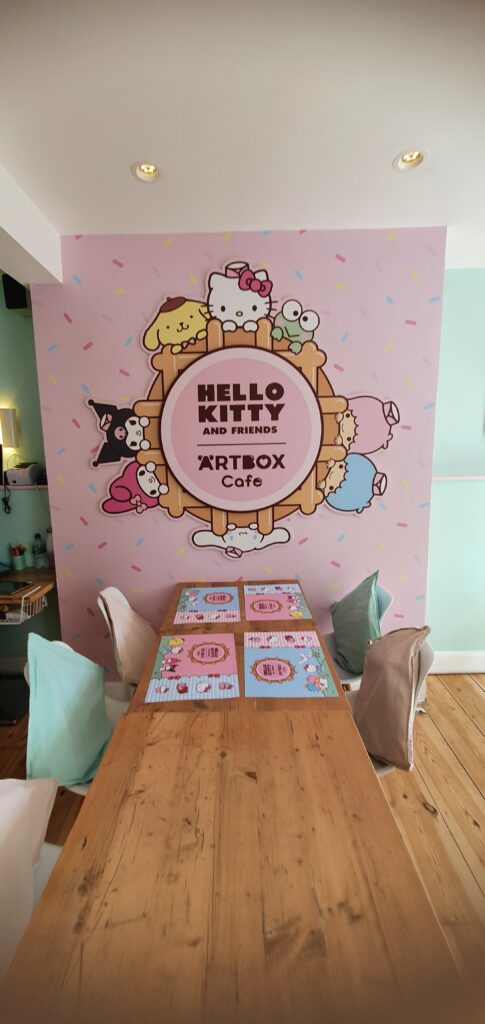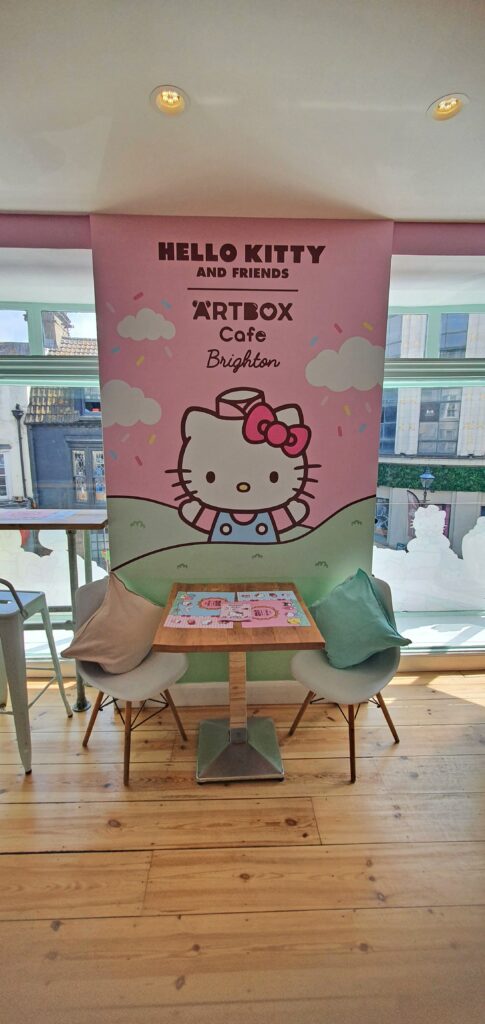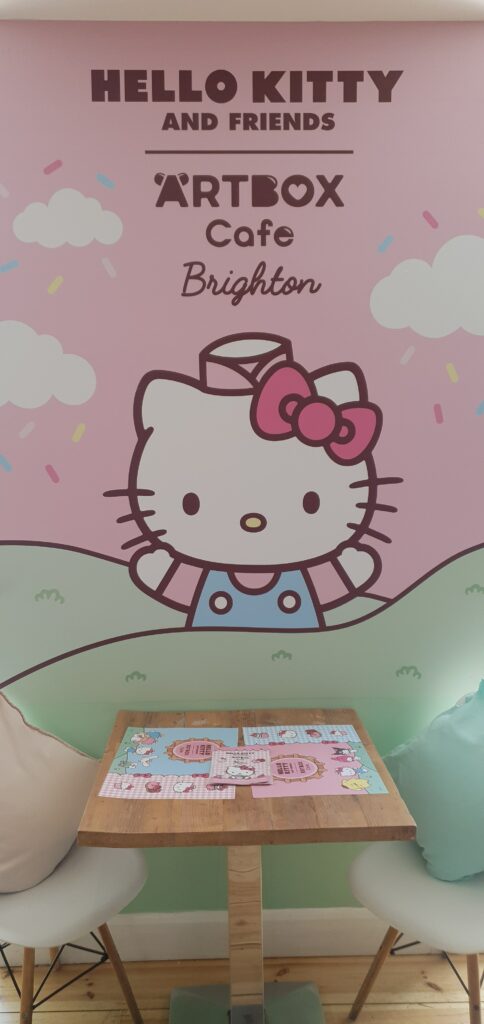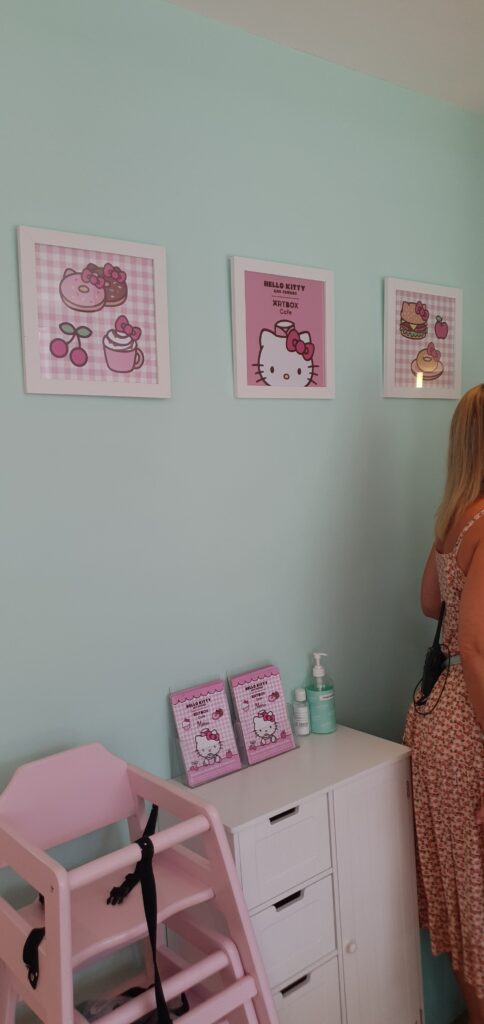 They put the Hello Kitty leaflet on free access but we don't have the right to take it. What's the point of putting them there so?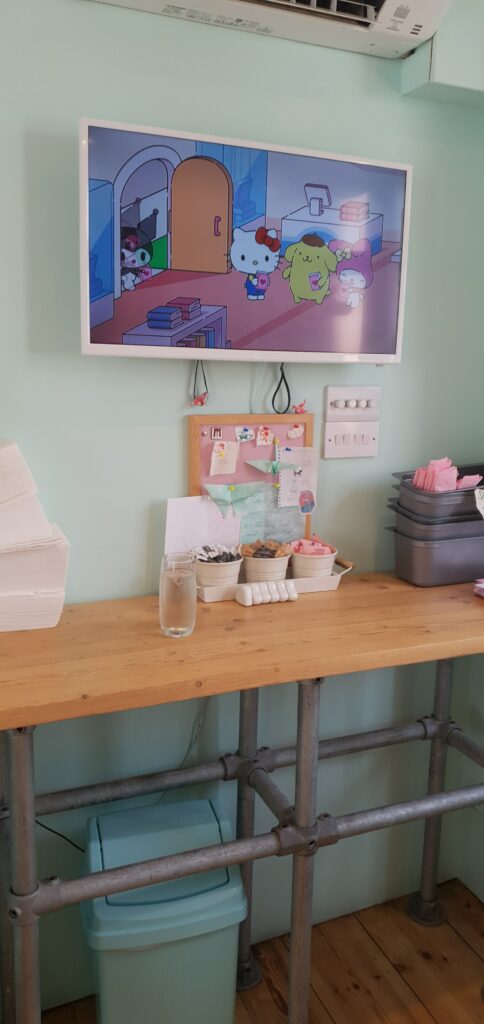 I think it's a corner to keep the kids busy with a TV. They should have added a coloring corner as well.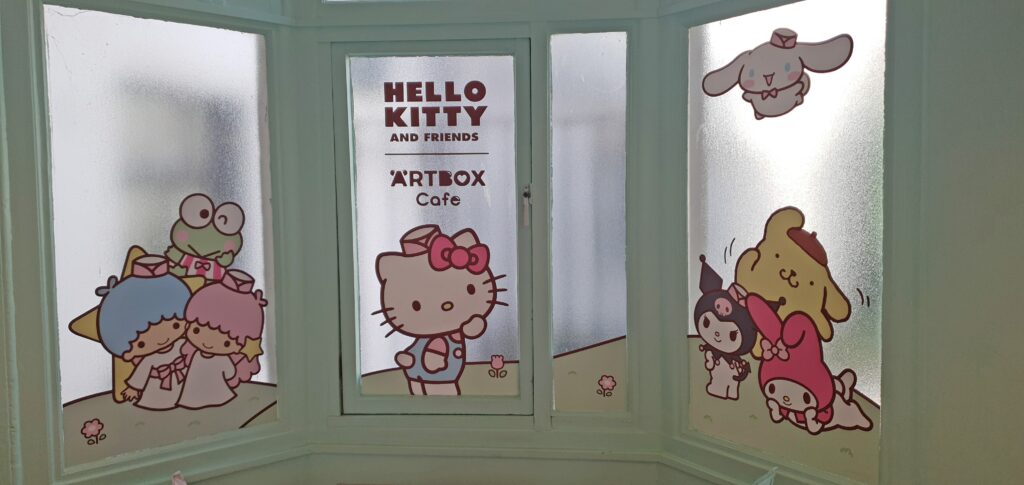 The Hello Kitty and friends decoration is too adorable, I love the colors!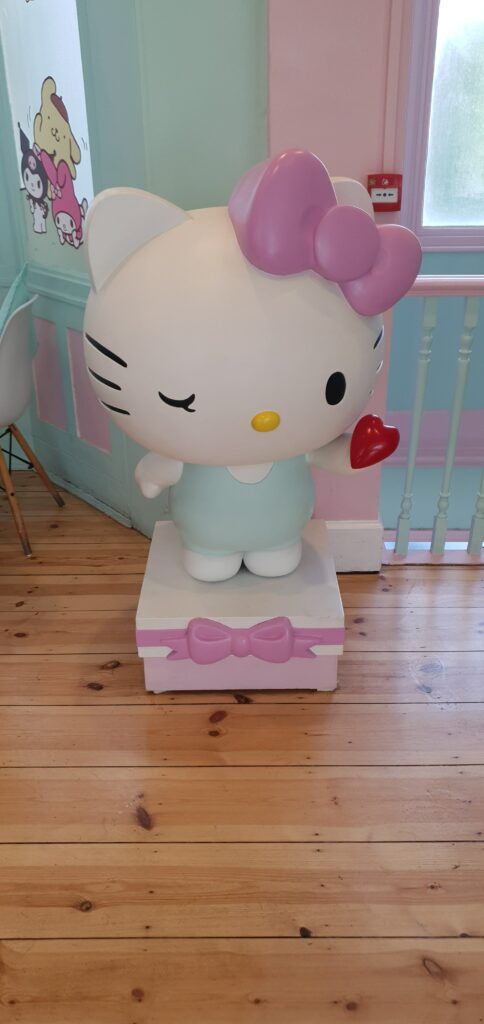 Instead of having the Hello Kitty mascot, there is the small Hello Kitty statuette that we find every time in all Hello Kitty cafes to take pictures!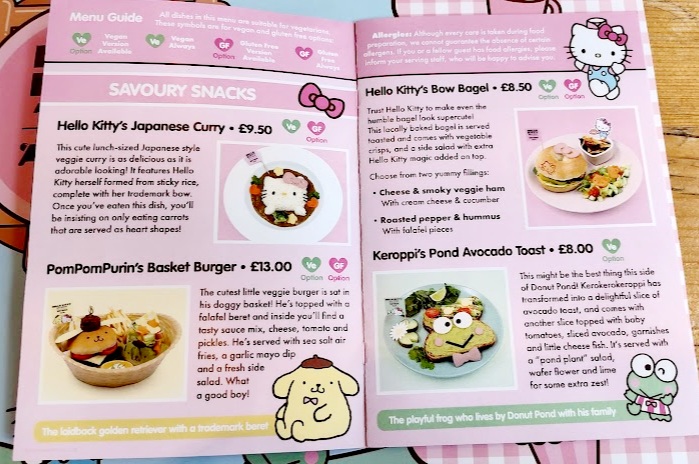 The Hello Kitty artbox offers sweet and savory with super adorable dishes featuring Sanrio characters. In terms of prices, I would say that it's better than i excepted as everything is a bit expensive in England so i was surprised that the prices are pretty correct. It's the same price as a lambda restaurant in London. So it's really worth the experience. I paid 39 pounds for two ice creams, a rice curry and three drinks and it was delicious!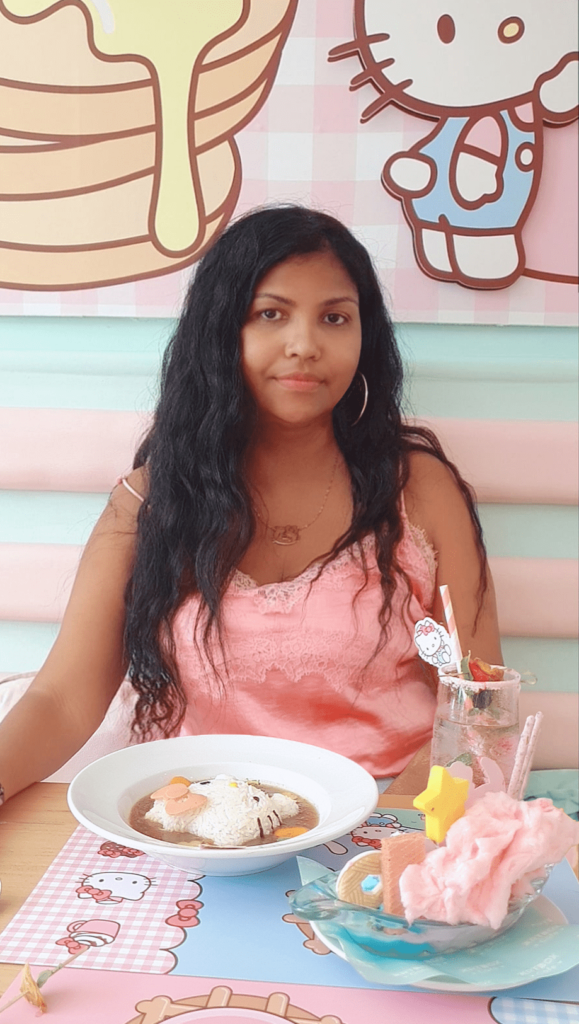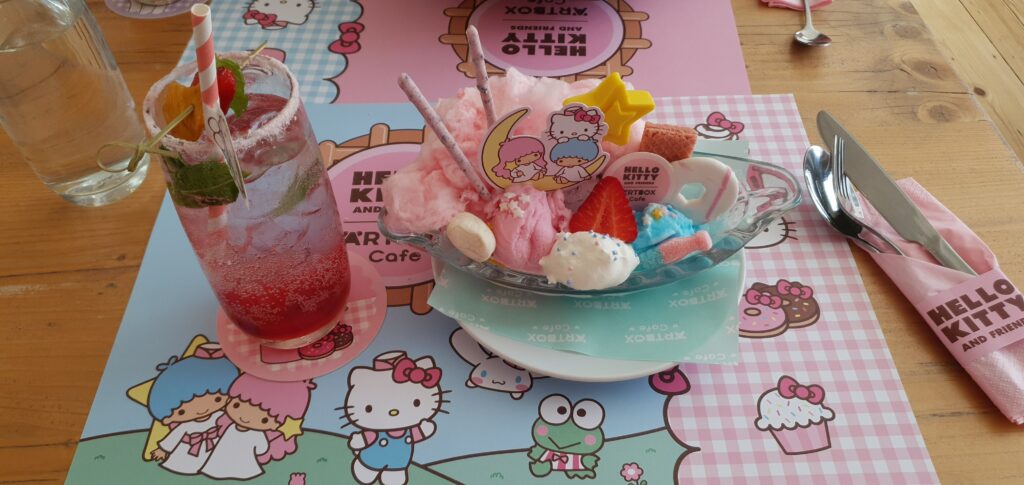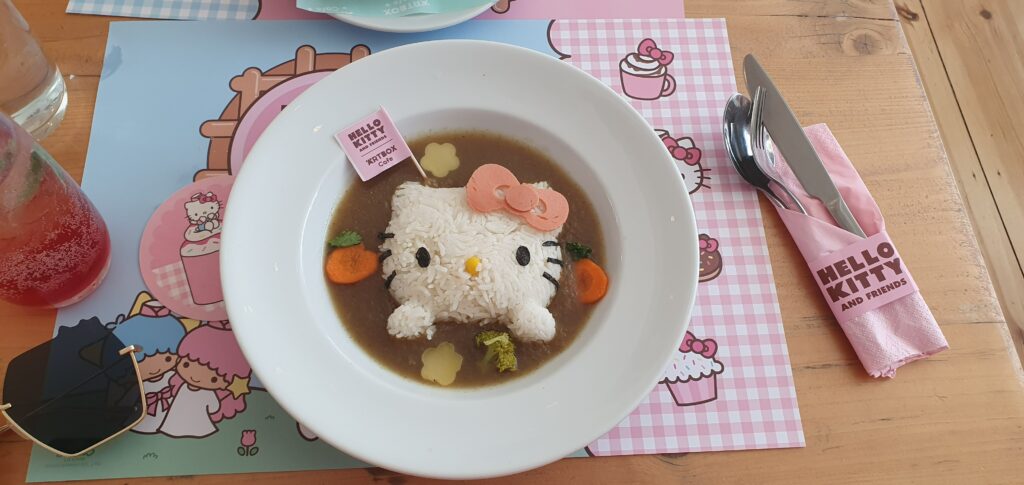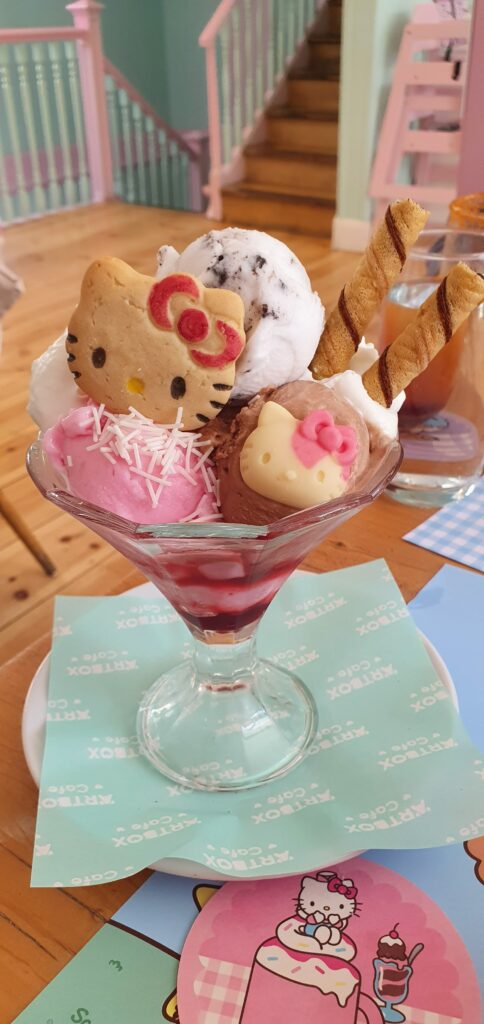 I hope you liked this article and made you want to visit Hello Kitty and Friends Artbox Cafe. I really enjoyed my visit. Usually, the themes at the Artbox cafe last for one year so you still have some time to prepare your visit. Feel free to comment and tell me what you think or if you have any question. If you want to see more of my Hello Kitty trips, check my other articles here.