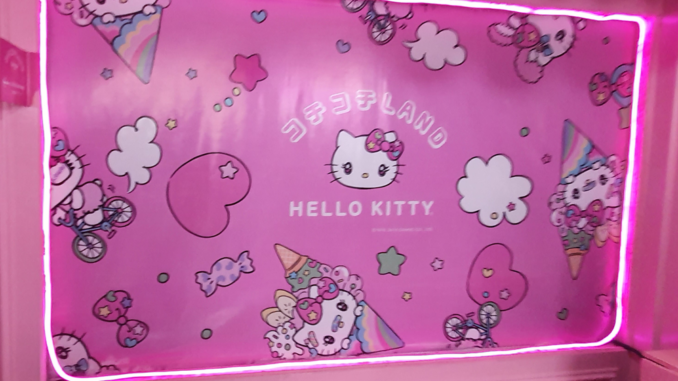 It's been a while since my last Hello Kitty trip! Thanks to Covid! But most of borders are open again now! And we can travel more serenely by being vigilant of course! So a few weeks ago, I had the chance to visit Mexico and what a beautiful country rich in history and culture! I learned so much about the Mayan culture and also got to see one of the wonders of the world the Chichen Itza! But above all, I was able to visit the famous Hello Kitty cafe in Mexico City and other Hello Kitty places!
Hello Kitty cafe
Hello Kitty Cafe has opened its doors in Mexico City at the end of 2021. So i told myself, I have to go and then this would be an opportunity to visit Mexico at the same time!
There is only one Hello Kitty cafe and it is located in the PLAZA CARSO shopping center on the first floor.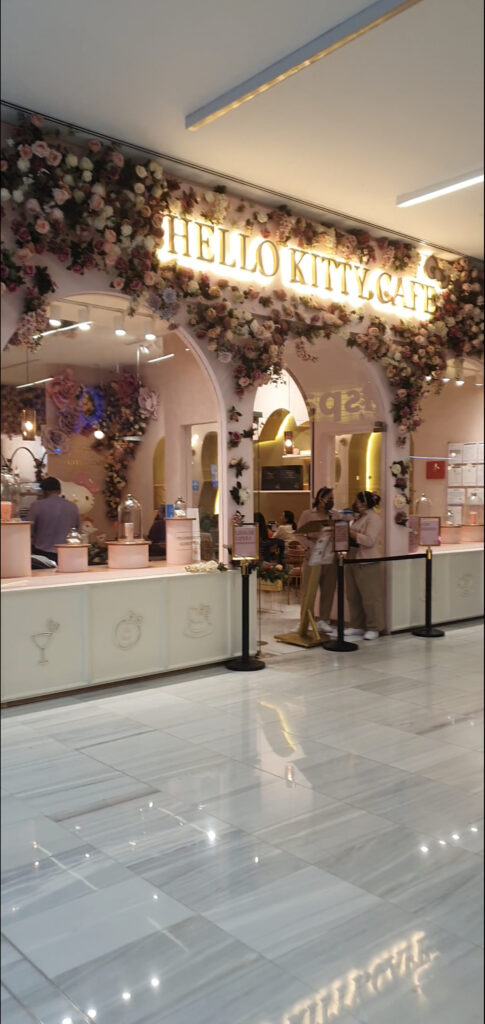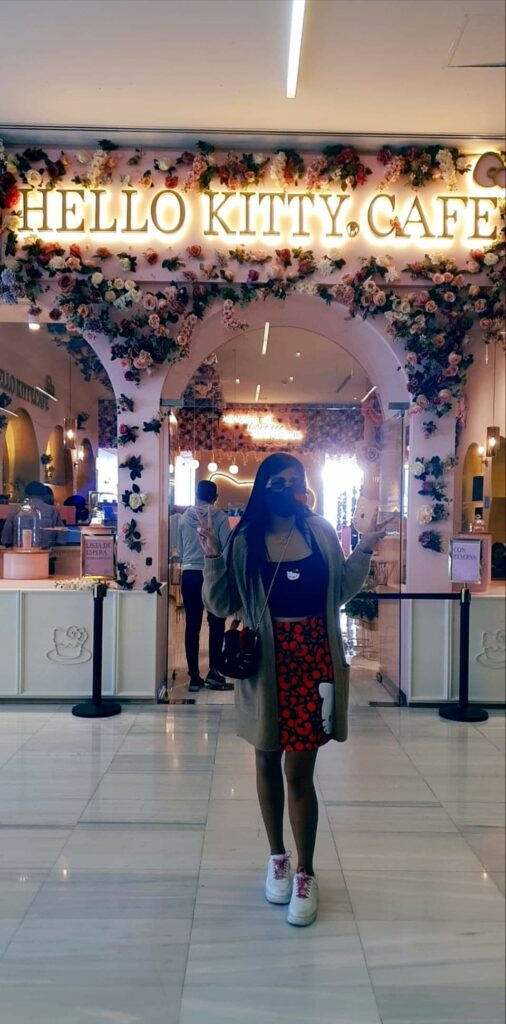 I have never visited the Hello Kitty cafe in Irvine in the United States before so I can't compare, I have seen girls saying that the one in CDMX is smaller! But whatever, I find it very pretty, classy and very flowery!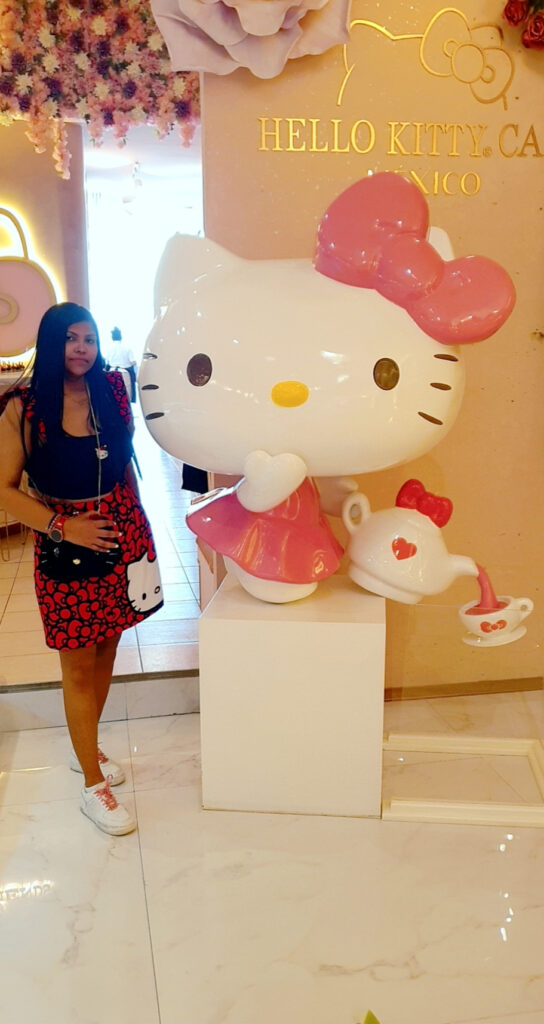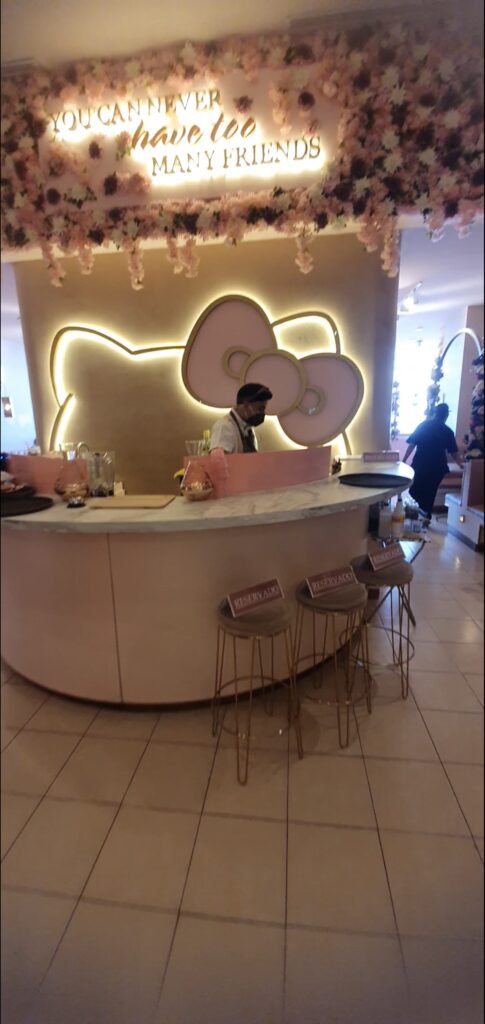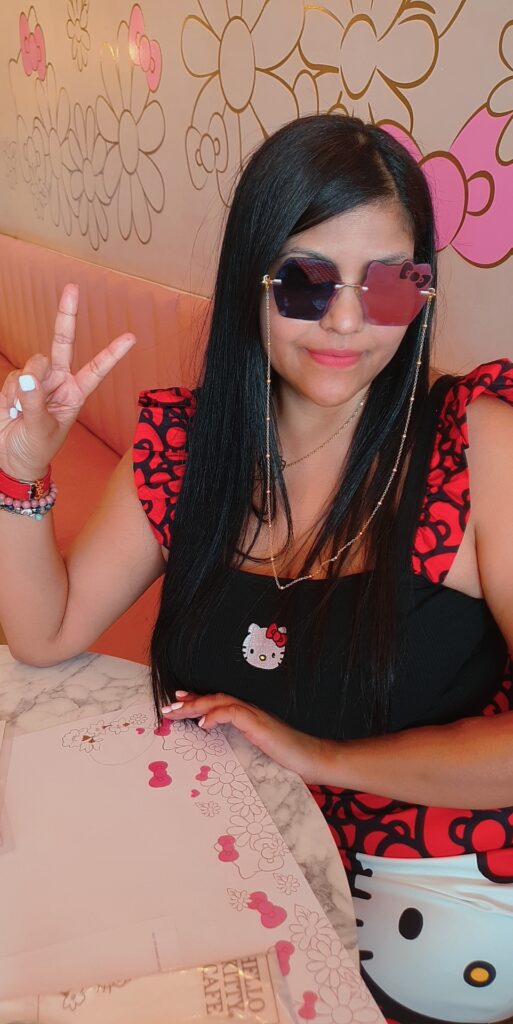 Usually you have to book a table on the website to avoid the crowds but there was no more availability for the day of my arrival! So I came early on a Wednesday morning and I was lucky that there weren't too many people! In fact, I didn't even have to wait, I was seated at a table quickly.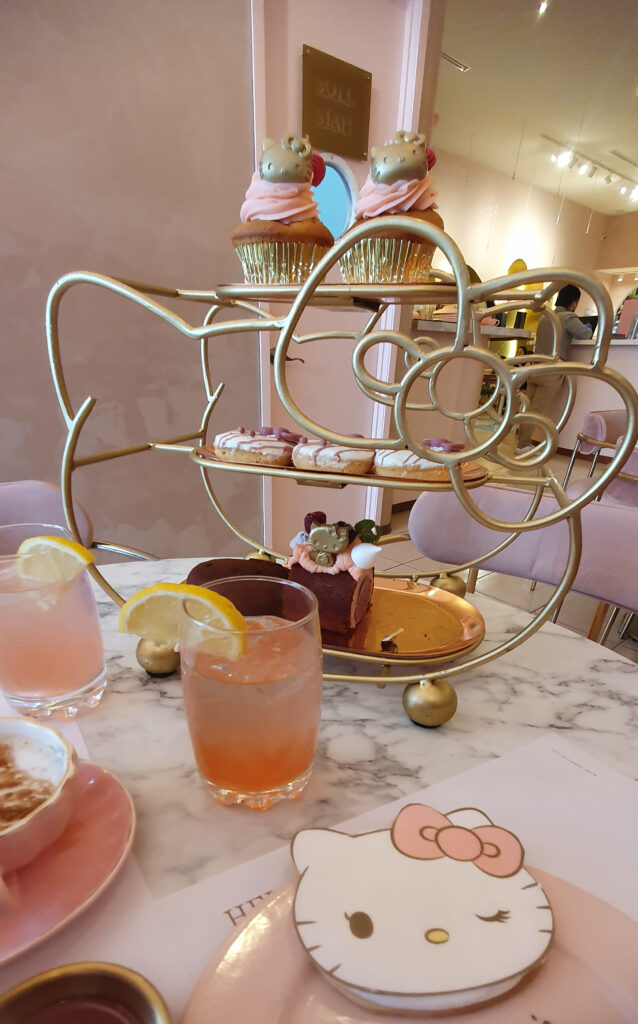 I was so excited that I forgot to take the menu pictures! But you can find it on the site. And above all I was so excited that I ordered without thinking and that's what happened! Look at this huge Hello Kitty sideboard! I think pottery barn sold the same before! There's salty and sweet so it's perfect for lunch and the waitresses were nice and we were served quickly though!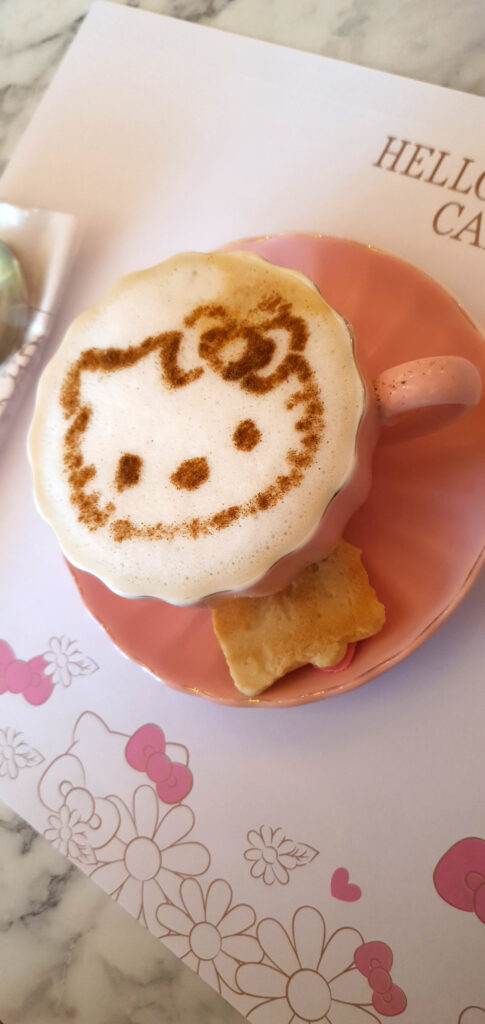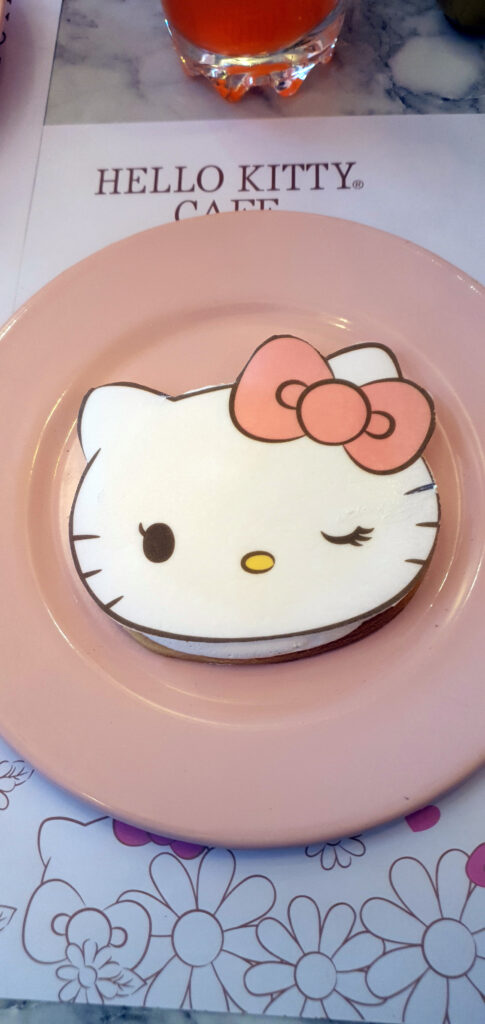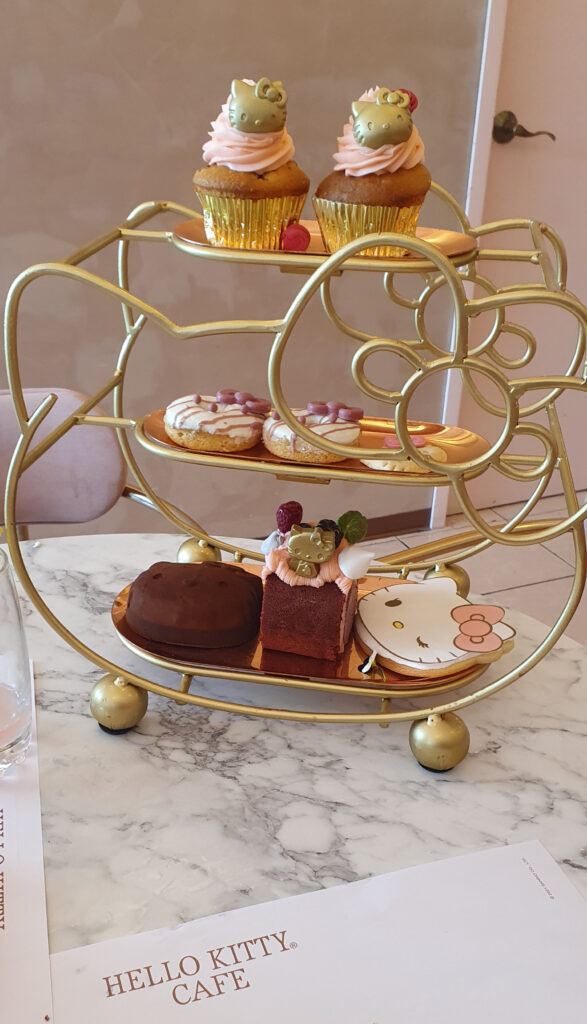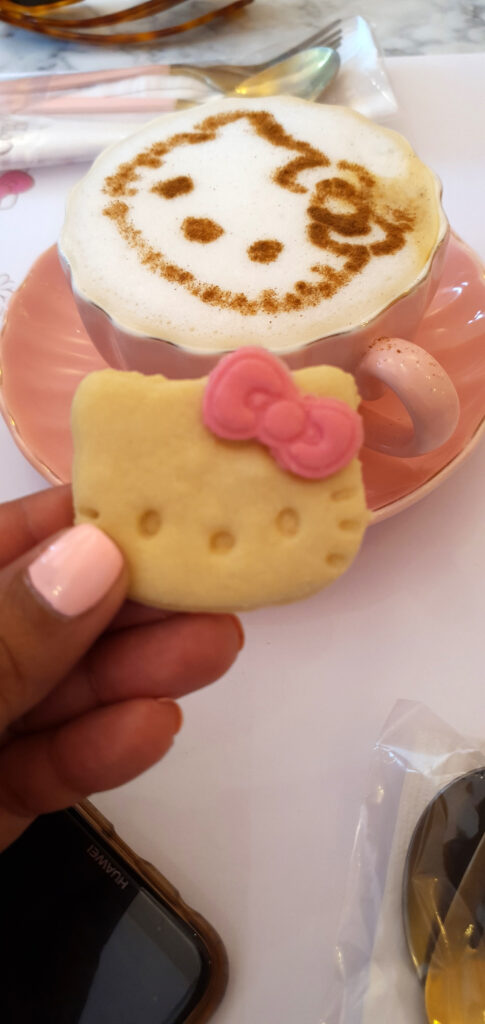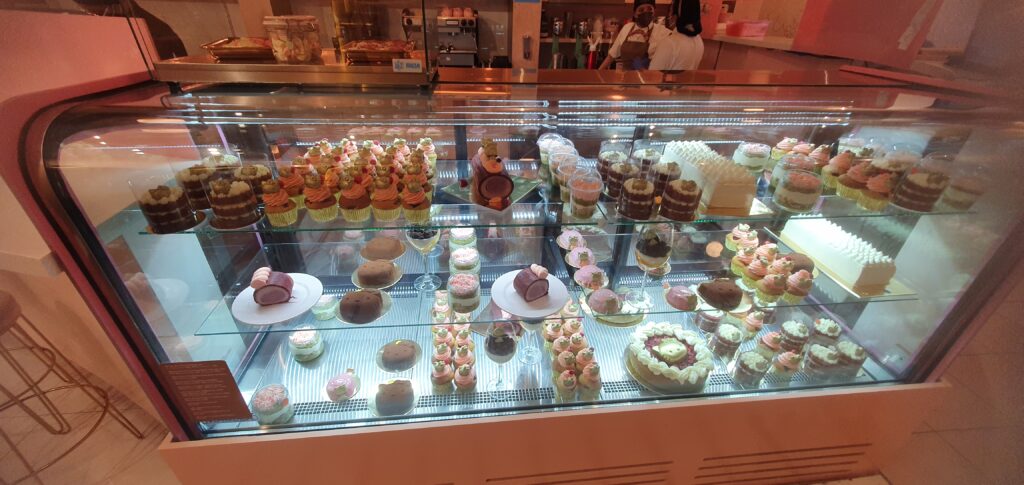 These are all the cakes available at the cafe! They are so beautiful but a bit heavy!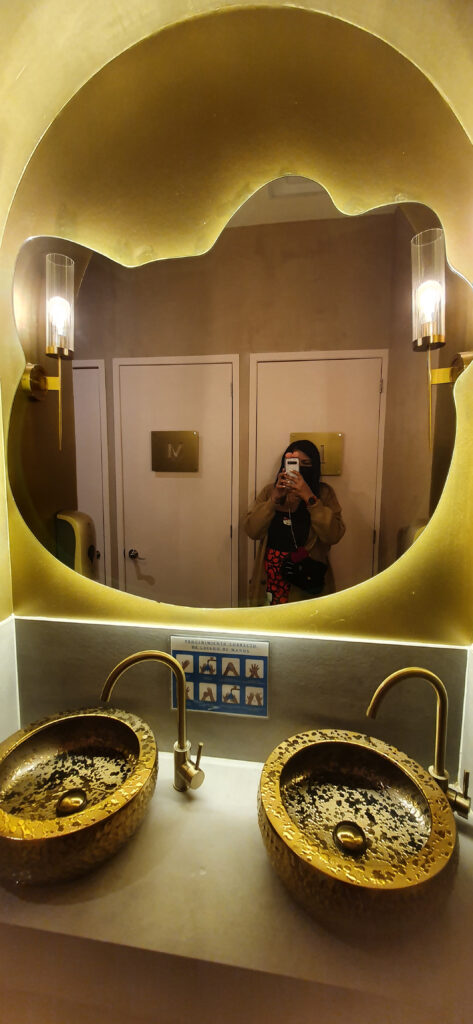 Even the toilets have Hello Kitty details! I was a little embarrassed because a lady was cleaning but I had to show you how pretty they are!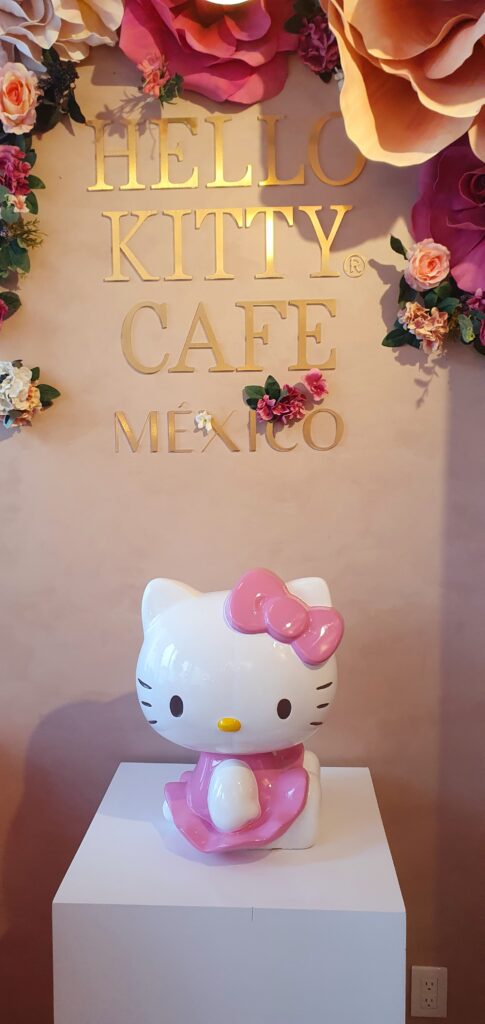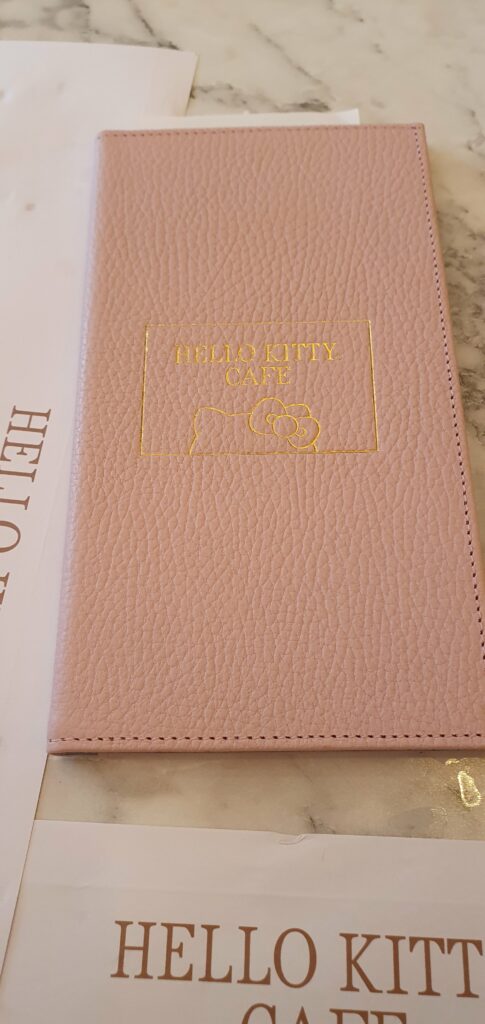 Even the invoice booklet is super pretty! But the price is much less haha! Needless to say that I haven't finished the Hello Kitty cakes but luckily we were able to take them away in pretty boxes! We gave some to homeless people on the street on the way home.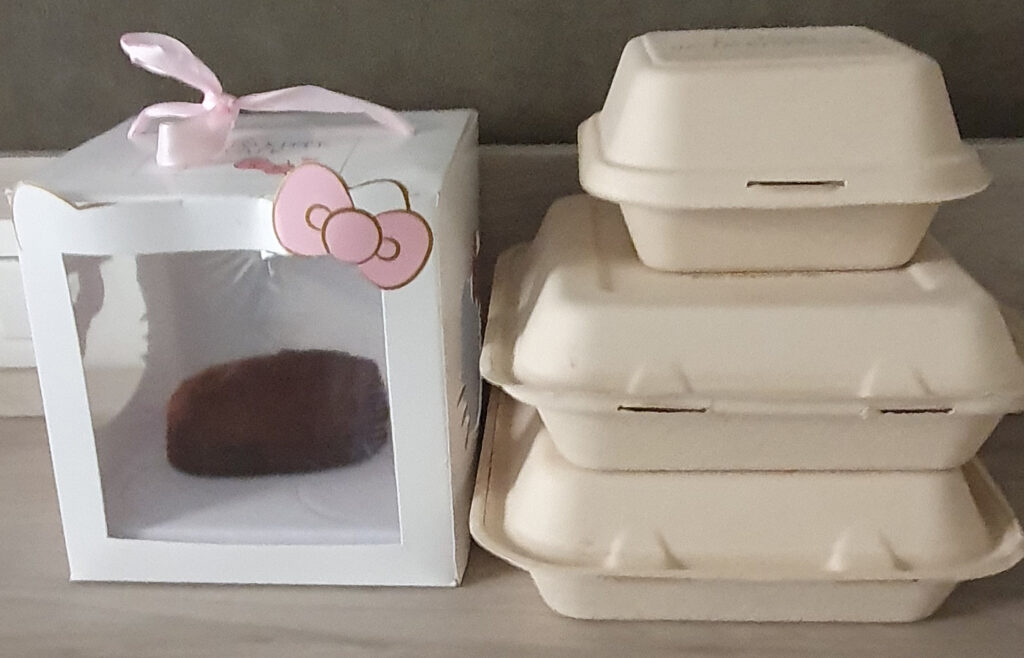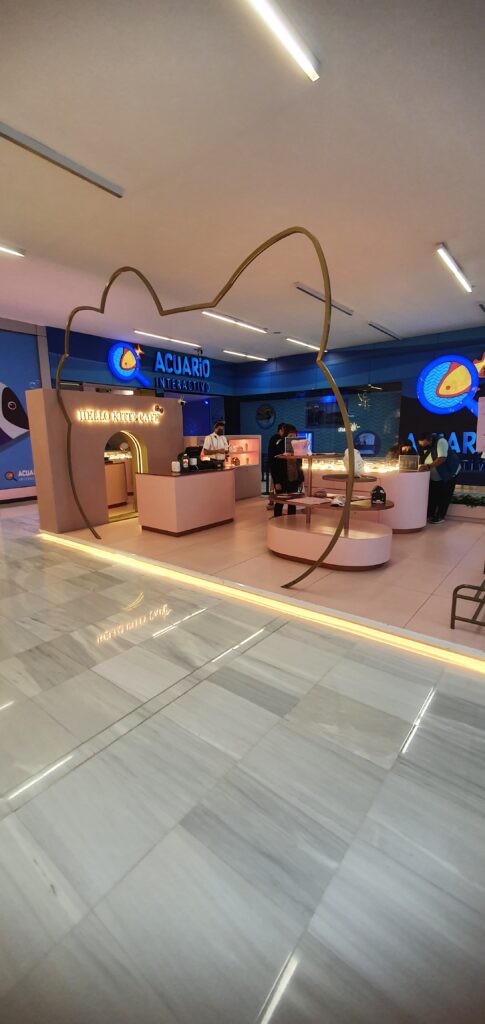 In front of the Hello Kitty cafe, there is a shop where you can buy jewelry and accessories bearing the image of Hello Kitty!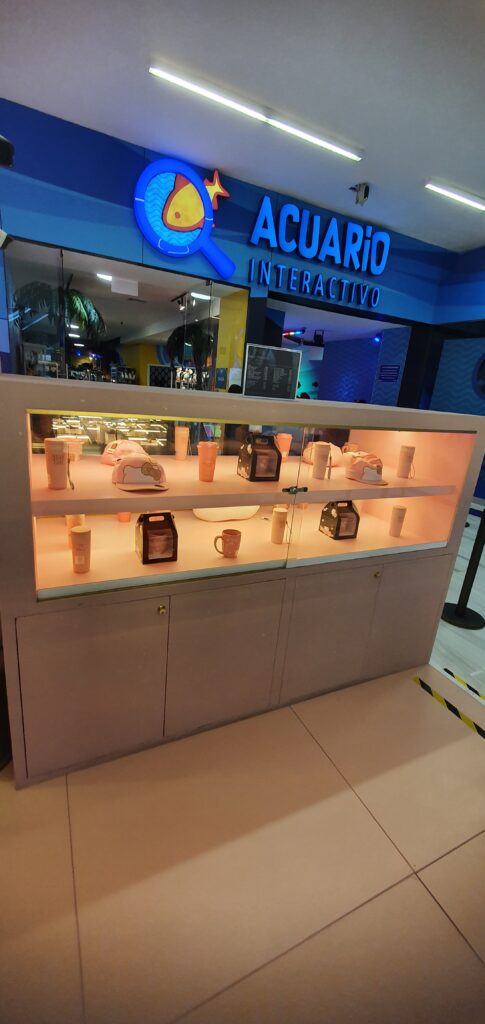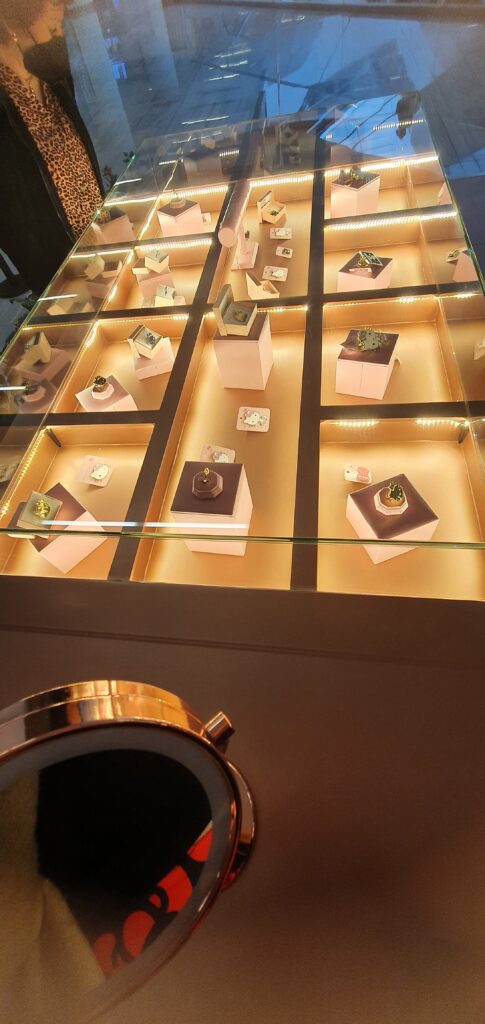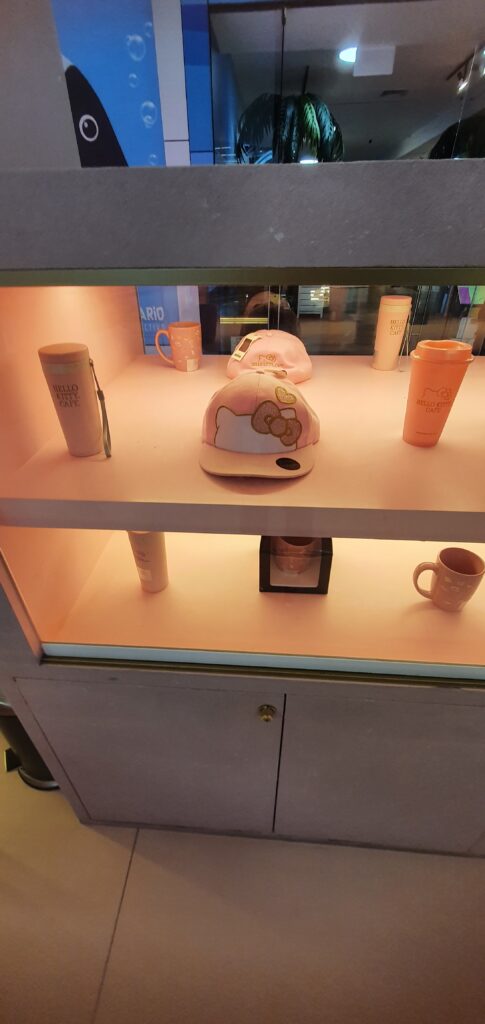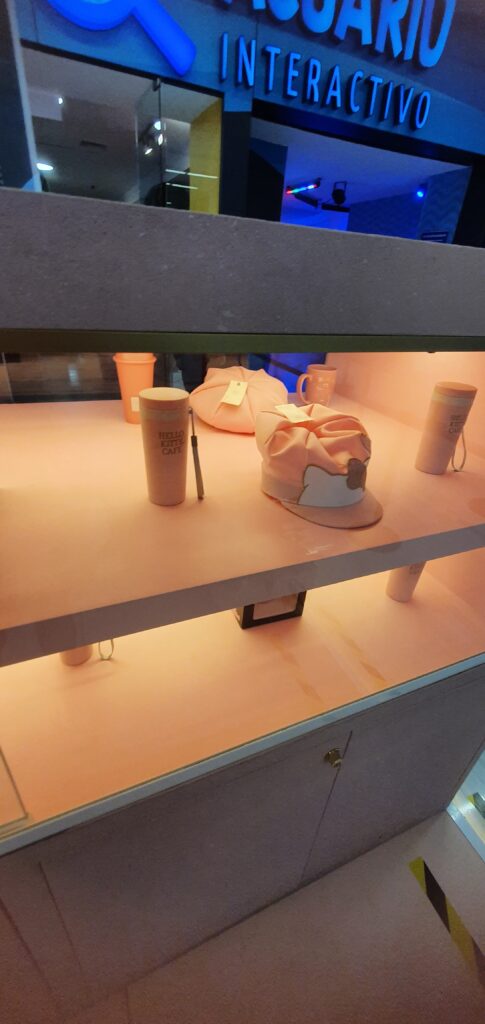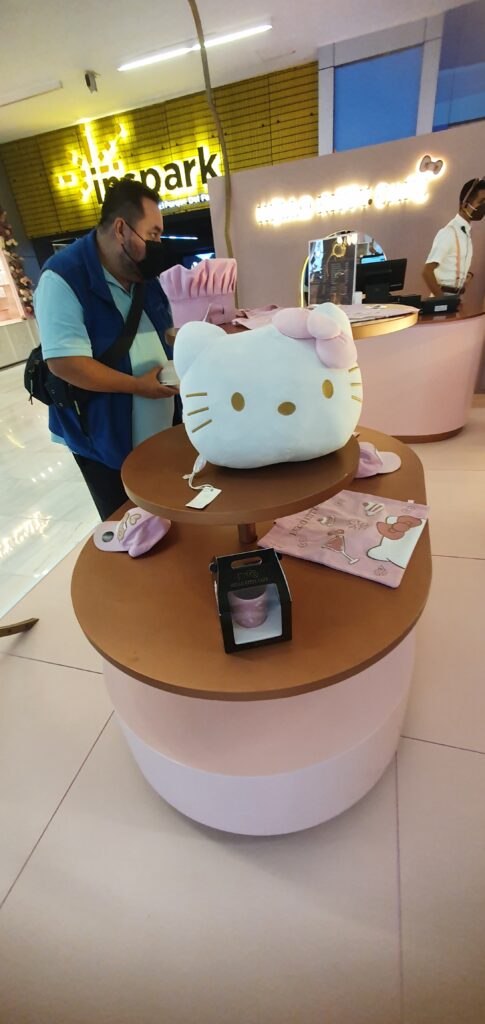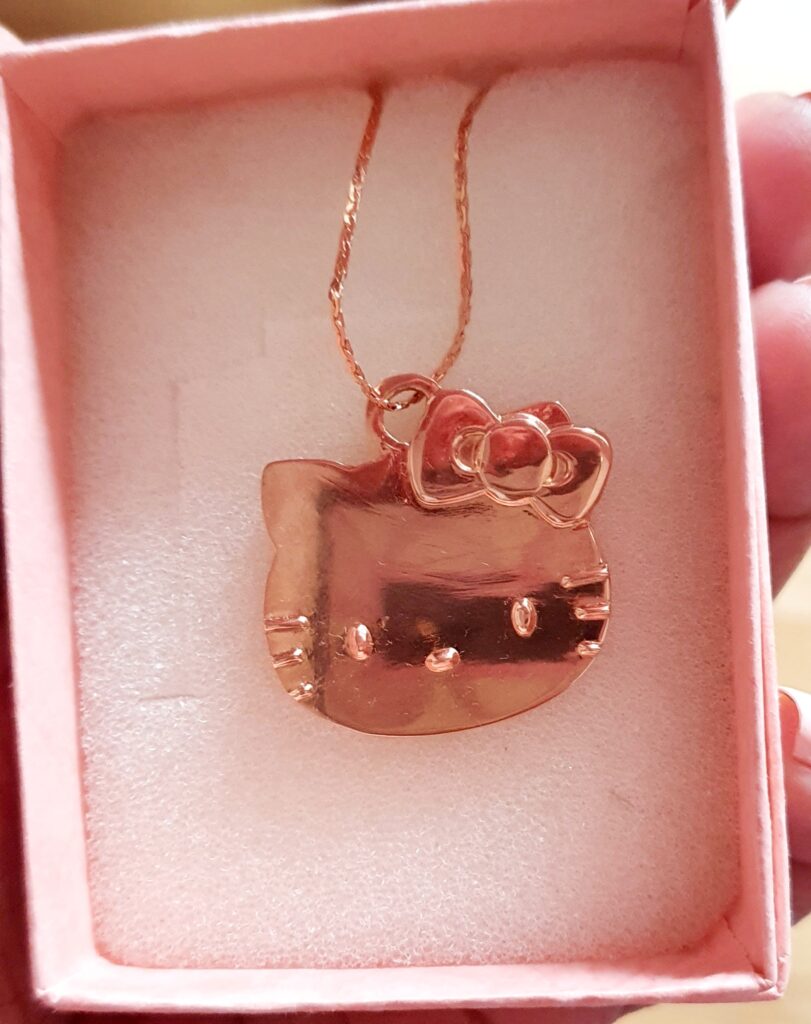 I offered myself this superb cute rose gold Hello Kitty necklace!
Otherwise it was a good experience, I had a lot of fun! This Hello Kitty cafe is much prettier than the ones I've been to in Paris or the UK although it's a bit more expensive. Don't do like me, take only one cake!
Kochi Kochi Land
Kochi kochi Land exists since 2014 in Mexico City, but the collaboration with Hello Kitty was first released in 2018. And according to the customer service, 2022 will be the last year of this collab. So obviously, I couldn't miss it!
I think there are six Kochi Kochi Land in Mexico City, but I decided to go to the one in Alameda which was the closest to my hotel and is located in the Chinatown of Mexico City barrio chino. I had already passed in this neighborhood a first time without noticing it because It's a very small shop!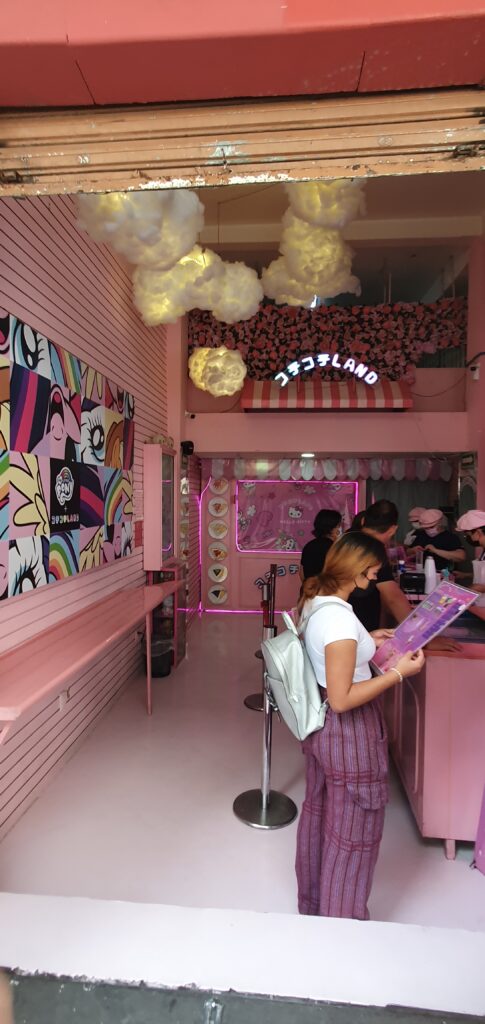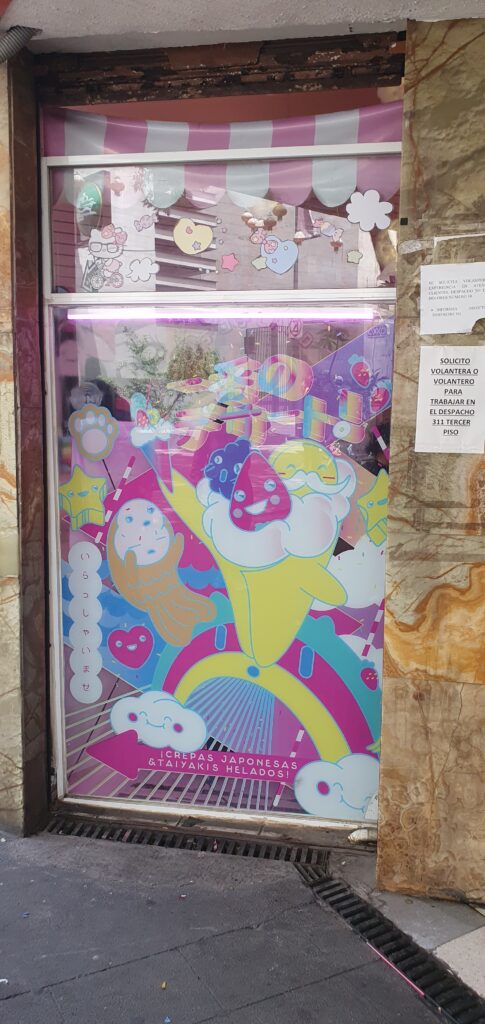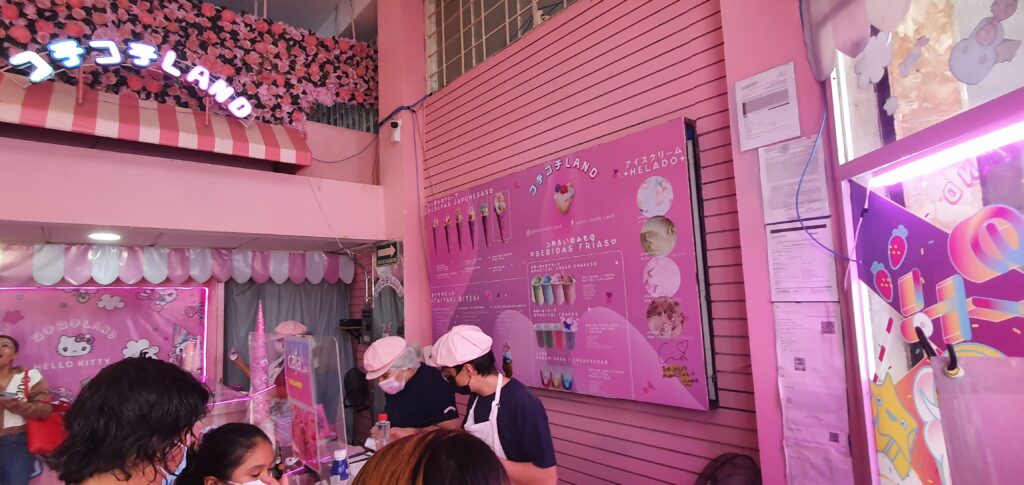 I was hoping to arrive for the opening at 12:00pm on Sunday, but we had to go withdraw and the first bank was 15 minutes away on foot. So, there was a little wait but it went very quickly!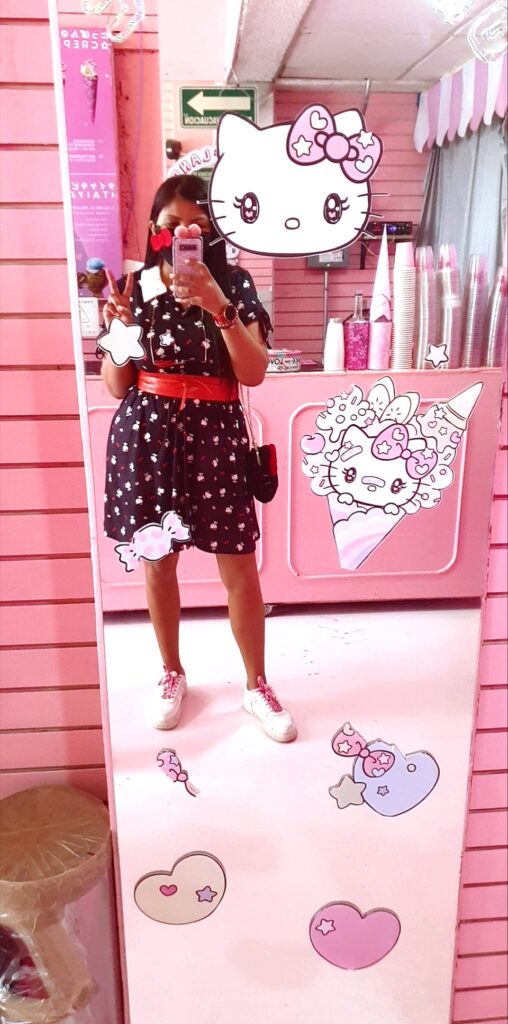 The decoration is really adorable and reminds me of my Surface Book 2 Hello Kitty sticker!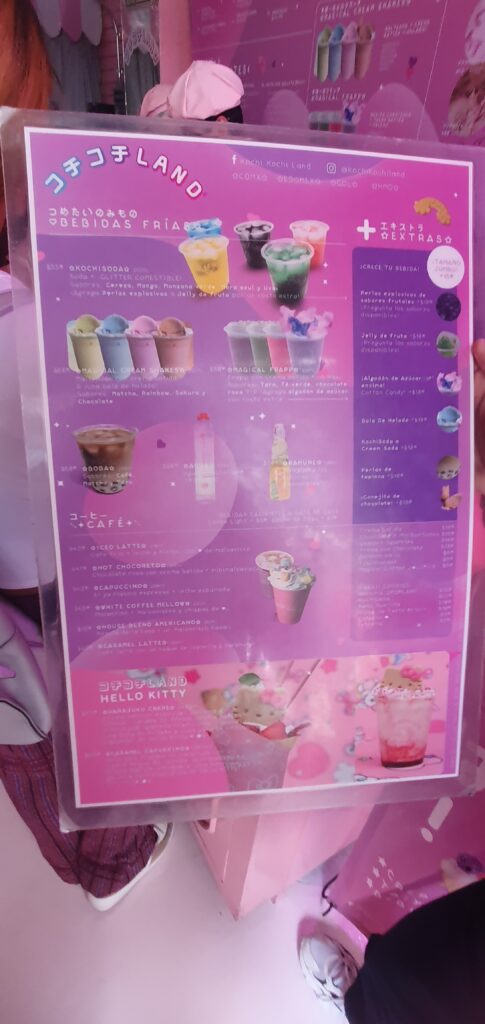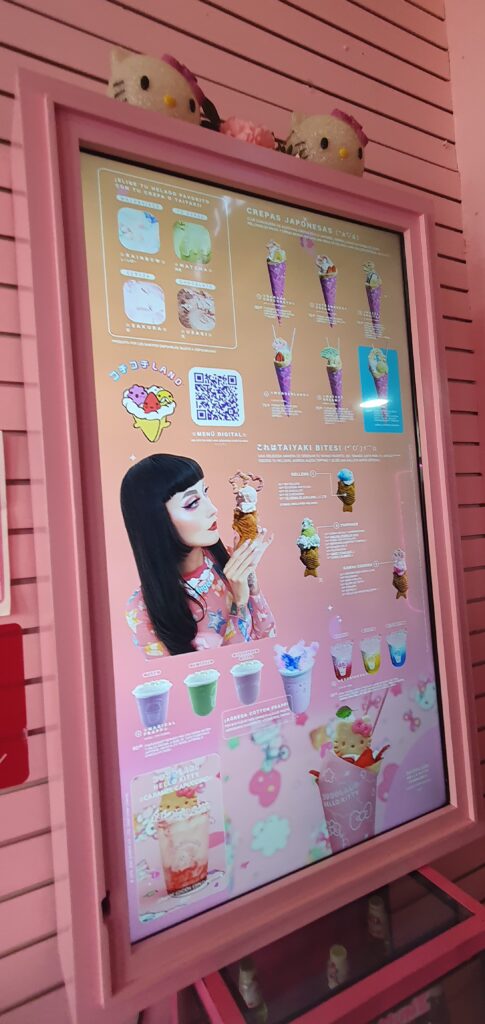 So as you can see on the cart, Kochi kochi sells ice cream and cold drinks such as Milk shakes but it's very yummy!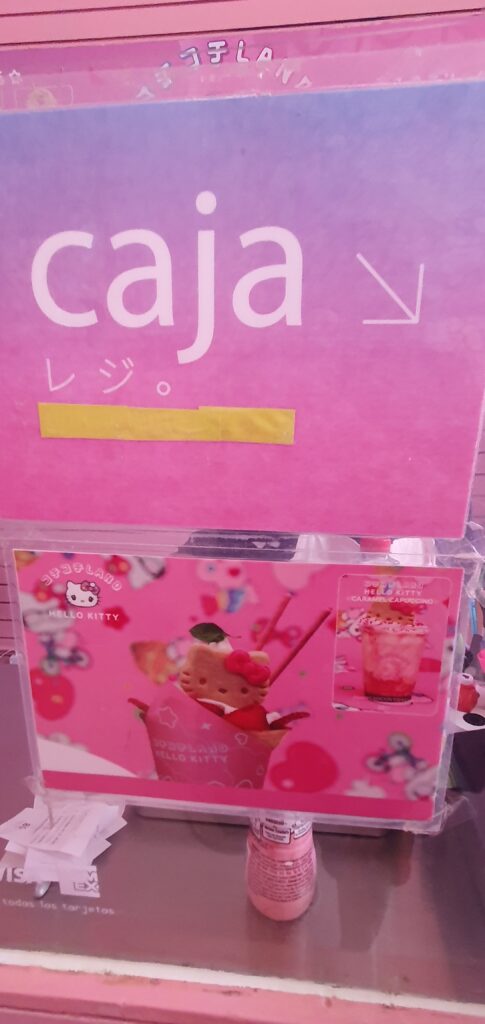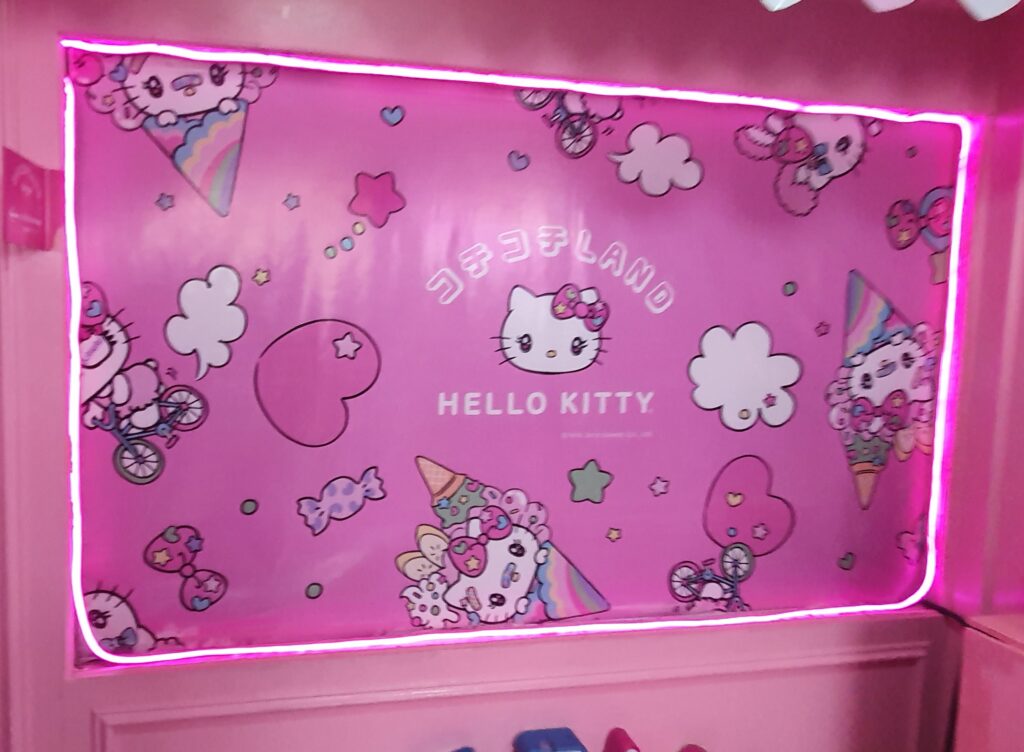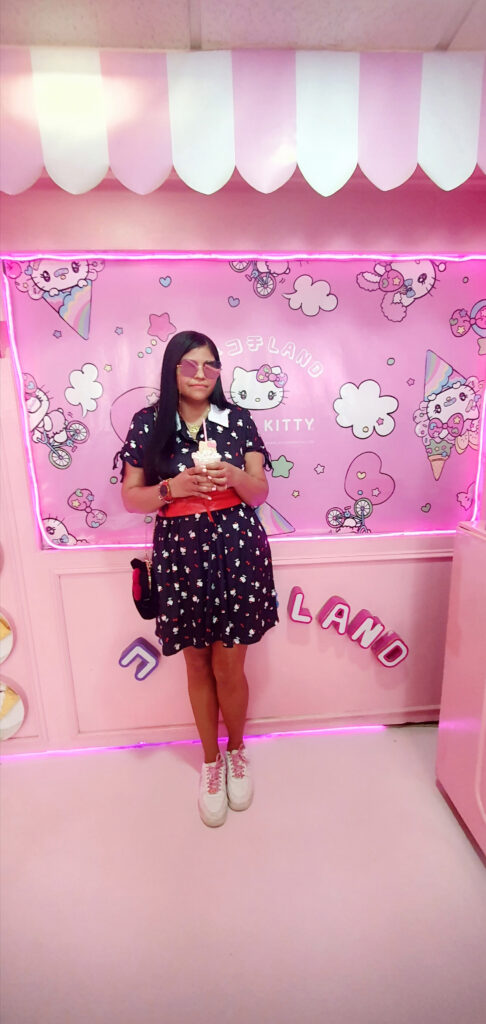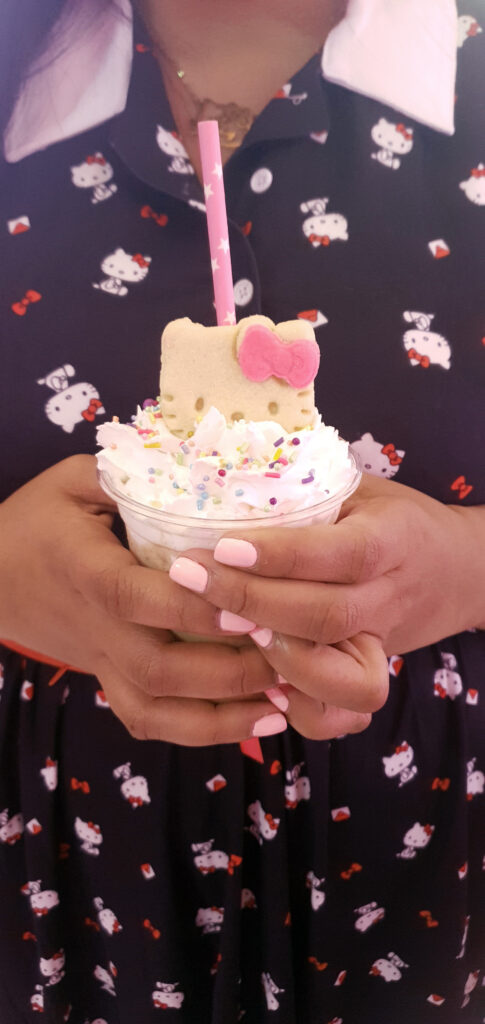 I didn't order the Hello Kitty ice cream because it looked so huge and I didn't want to have a stomach ache so I chose the Hello Kitty drink which was very delicious!
Hello crepas y marquesitas
I'm not sure exactly when they opened but they have two locations. And I had a small issue with one of them. I had the information that it opened at 6pm at Vergel Coapa. And 30 minutes before the opening, they announced on instagram that they won't be coming when I was already on my way! So I came for nothing, and it took an hour to get there. But nevermind, I tried the other site at Nuevo Bazar Pericoapa on Sunday and bingo! I was so happy cause it looked like a huge place! But when I got off the uber, I realized it's just a stand with other different stands! A cute stand though.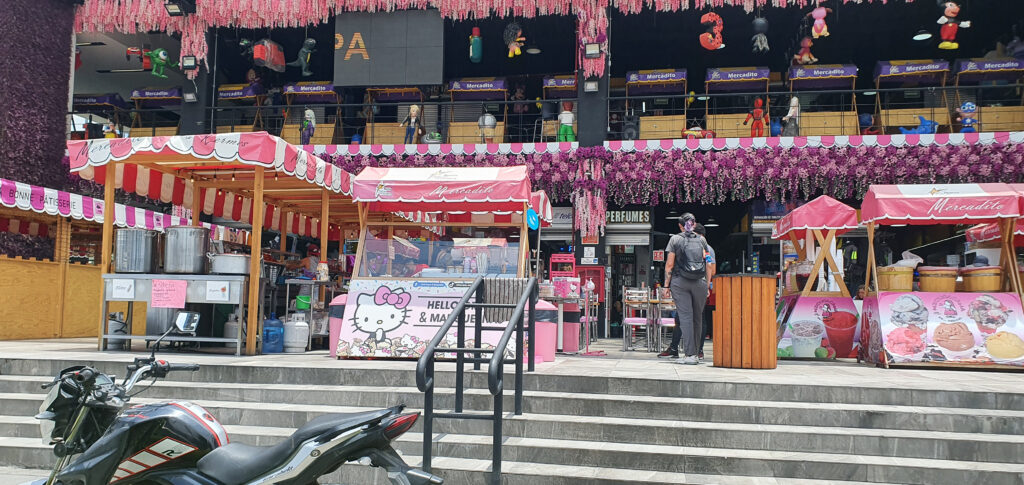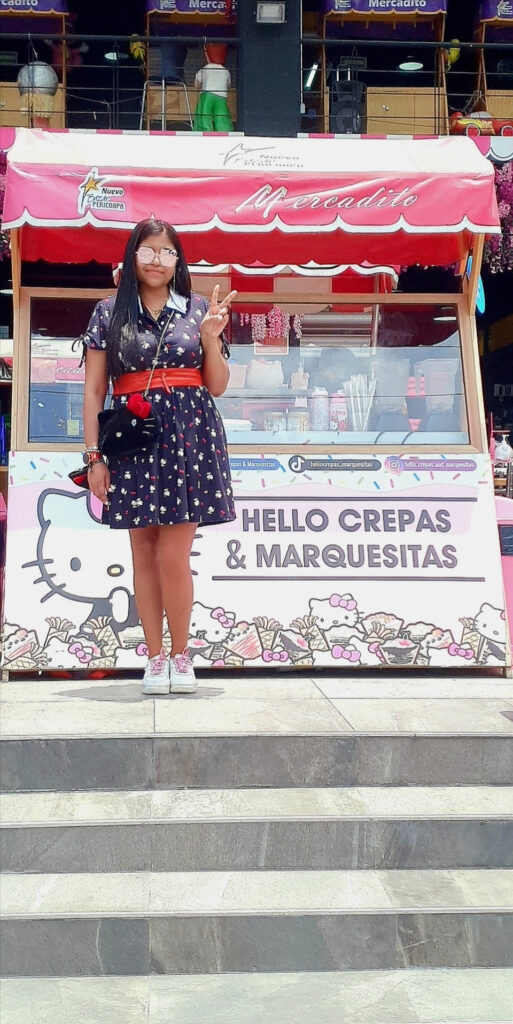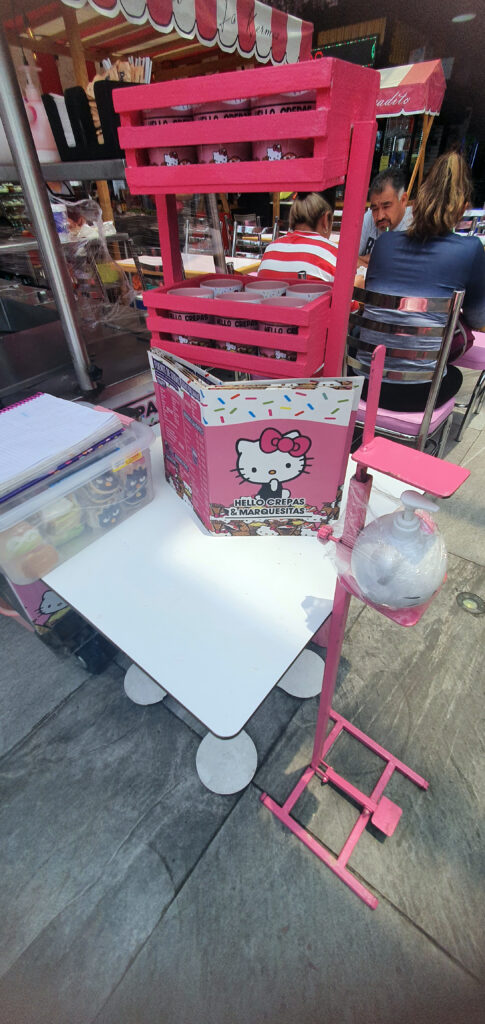 In fact, the tables are for all customers from all the stands around.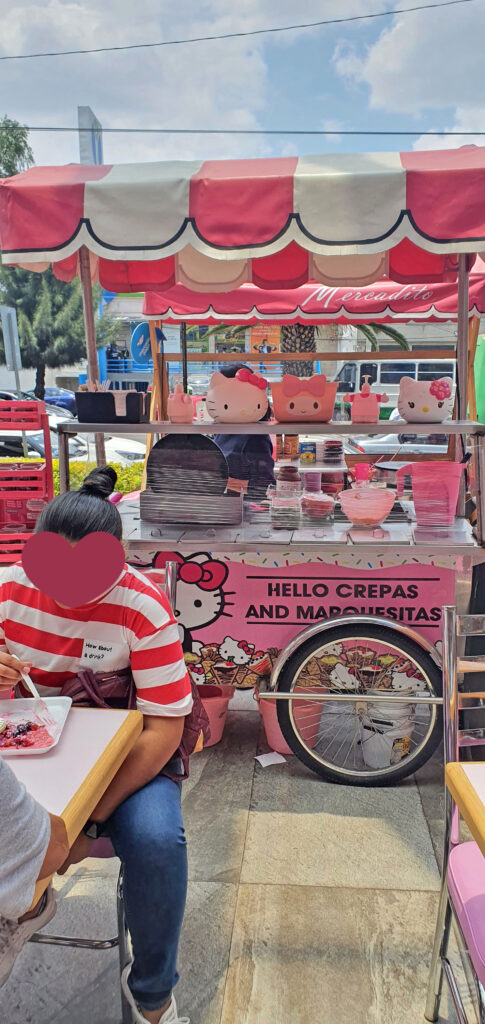 I've not seen a lot of goodies, just Hello Kitty cups.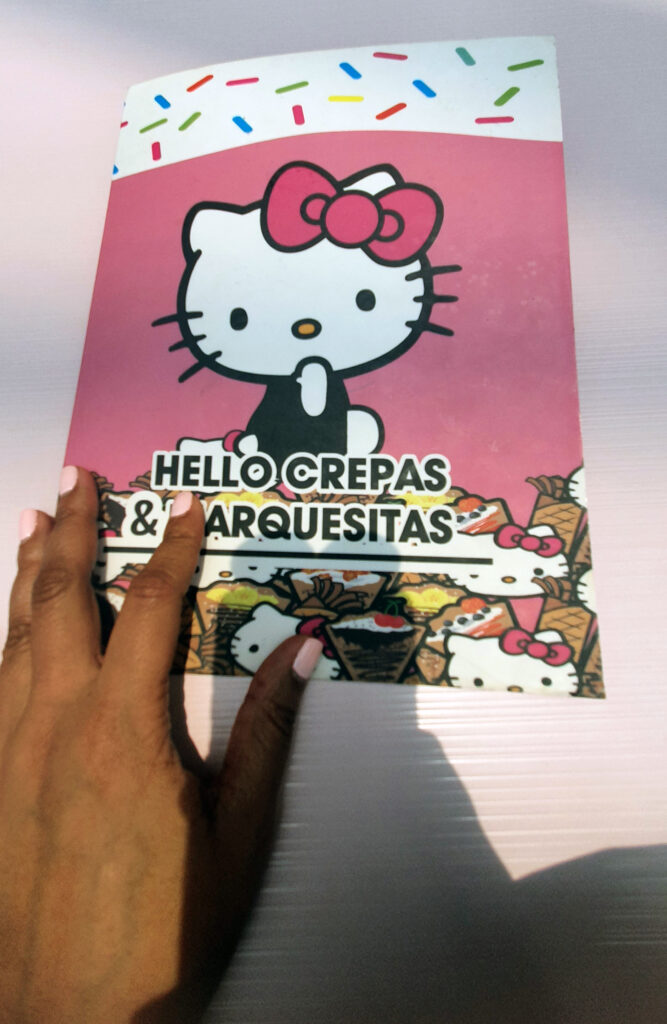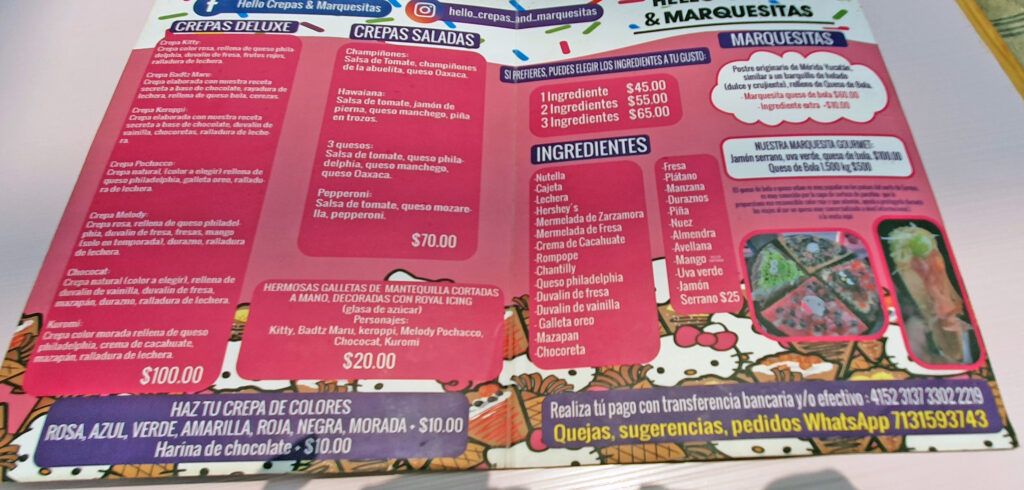 There's a lot of choice in the menu though. There are crepes with the effigy of the other Sanrio characters like My Melody, Kuromi or Badtz Maru!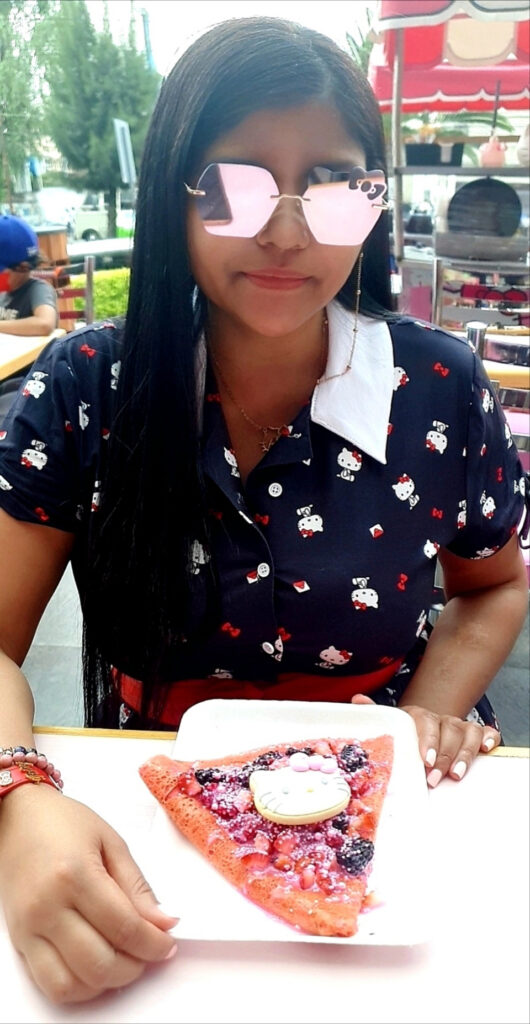 And I obviously picked the Hello Kitty crepe and I paid 120 pesos for this.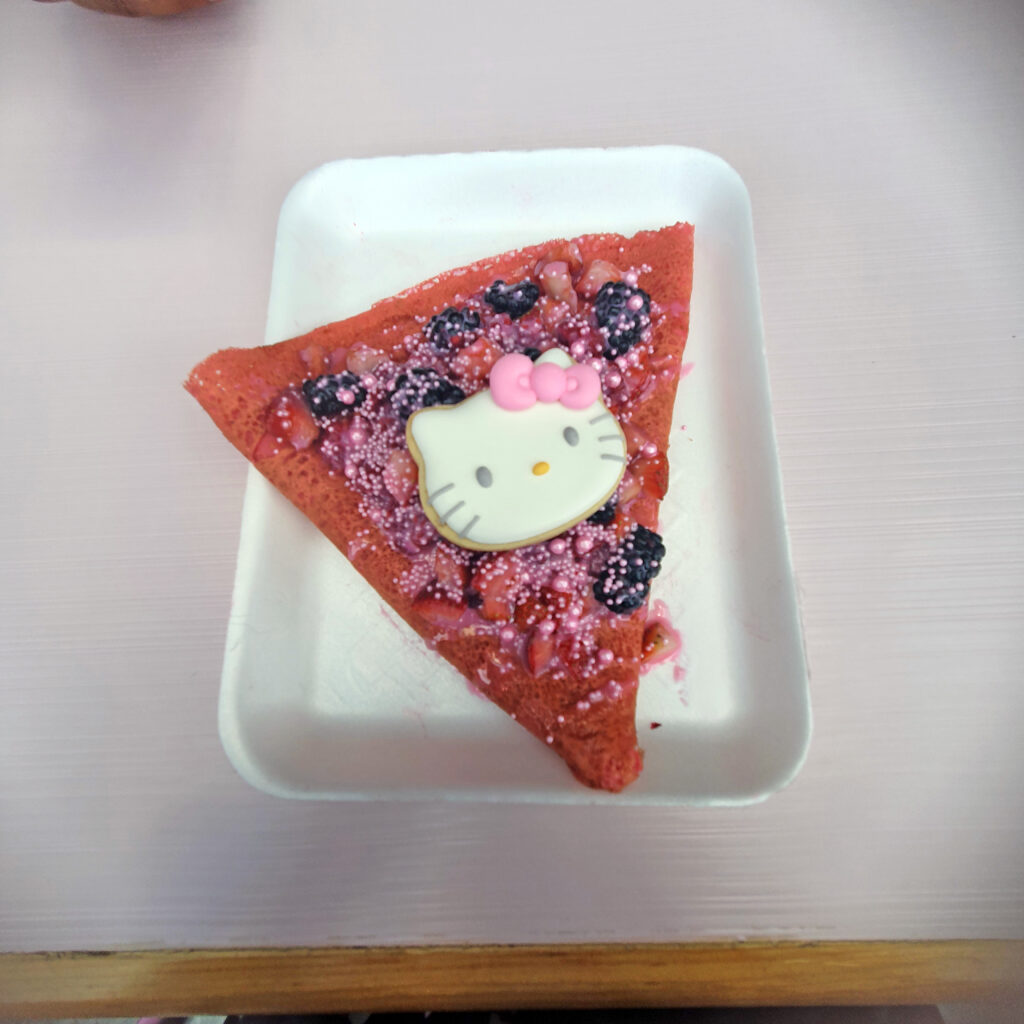 The place is good and the crepe was yummy, but I didn't like the other sellers next to the Hello crepas y marquesitas, we had bought a drink and some corns, and I felt that they were trying to scam us because we are foreigners. Nevertheless, it was a good day and i enjoyed to visit all these Hello Kitty places! I already know i'm going to visit the Hello Kitty artbox cafe in Brighton in UK in a few weeks so stay tune and check here for my other Hello Kitty trips!